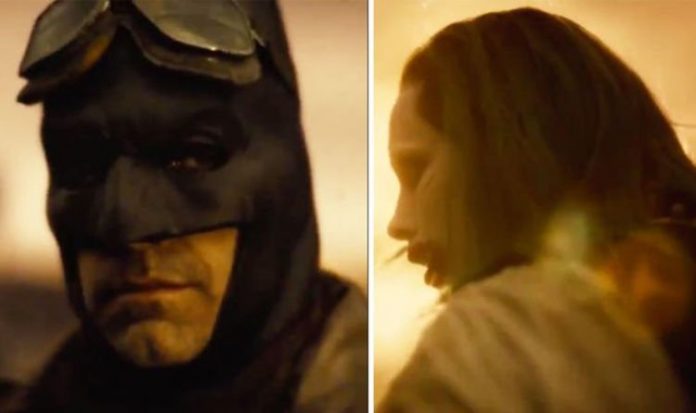 We've all been waiting for this since 2107. When Snyder stepped down from teh production due to a major family loss and tensions behind teh scenes with Warner Bros, Joss Whedon seemed like an ideal replacement. The Buffy and Avengers director had a strong track record but his style and tone are very different from Snyder and the result ended up pleasing no-one. Now, finally, we will see the delivery of Snyder's pure vision, plus some key reshoots and additions.
The main changes will be the inclusion of all the deleted scenes involving Darkseid, Steppenwolf's master. 
There are first thrilling scenes included in the main trailer as he fights all of Earth's ancient heroes, presumably in the battle already shown in the Justice League theatrical release.
The trailer ends with the recent confined new scene with Leto's Gotham villain confronting Batman. But is it real or a dream?
READ MORE: Silence of the Lambs: Jodie Foster 'couldn't be near' Anthony Hopkins
It shows the Joker from behind as he looks out at a city skyline and then cuts to a shot of Batman.
Joker says: "We live in a society where honour is a distant memory."
And then he turns and adds: "Isn't that right…? Batman?"
Snyder spoke up this week about why he passionately wanted to add in this new encounter.
He said: "The cool thing about the scene is that it's Joker talking directly to Batman about Batman. It's Joker analyzing Batman about who he is and what he is.
"That's the thing I also felt like fans deserved from the DC Universe."
Snyder added: "That is to say, the Jared Leto Joker and the Ben Affleck Batman, they never really got together.
"It seemed uncool to me that we would make it all the way through this incarnation of Batman and Joker without seeing them come together."
But have they really come together? It seems more like a dream sequence, presumably from Batman's own subconscious as he wrestles with his own actions. The trailer even opens with Bruce Wayne saying, "I had a dream.. almost a premonition."
Snyder has also promised another Joker Easter egg from a previous DCEU film will be explored.
Back in 2016 Batman V Superman showed a Knightmare dream sequence with a rogue and dark Superman
Synder recently confirmed that the new cut will explore that sequence, including a particular Joker Easter egg that has been baffling fans for years.
He said: "The scene explains why Bruce had the Joker card taped to his gun that you see in Batman v Superman."
THE JUSTICE LEAGUE SNYDER CUT WILL BE RELEASED IN THE US ON HBO MAX ON MARCH 18. UK RELEASE DATE TBC