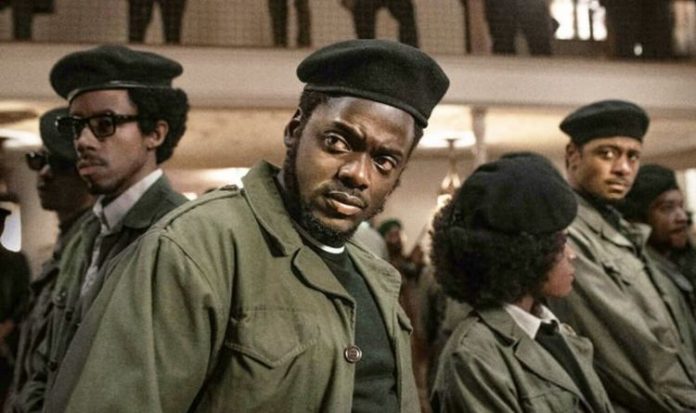 The thrilling story takes place in 1960s Chicago and follows Stanfield as the infamous FBI informant William "Bill" O'Neal. After being told to either adhere to the FBI's demands or face five years in prison, Bill decides to cooperate with the federal officers by infiltrating the Illinois Black Panther Party. At the time the BPP were being run by Chairman Fred Hampton, a fiercely passionate and outspoken man who wanted to take on racial injustice with his own brand of freedom fighting.
Kaluuya is an entirely dominating force on screen as the late political leader.
Hampton's speeches and public seminars are not only a force for good, but they are fantastically powerful.
One scene in particular – as seen in the film's trailer – shows Kaluuya screaming into a crowd of excited followers.
Kaluuya, and the scene, are electrifying. It is one of the most passionate scenes I have seen in a long time.
READ MORE: Avengers: Wolverine role was turned down by Aragorn actor
Not only does Kaluuya bring his best during the higher-powered scenes, he is perhaps at his most memorable during the smaller, more intricate moments of the film.
Most of these instances are shared between Kaluuya and his on-screen lover Deborah Johnson (played by Dominique Fishback).
Their tender scenes play out with grace and showcase just how well-written the script is.
Fishback steals a few scenes in particular – one of which involved a poem which the actor herself wrote.
Stanfield is simply stunning throughout these finer moments. Some memorable examples are when he realises he has got away with his lies. He allows his face to fall from pure terror to ecstasy in nanoseconds.
The 29-year-old actor made his presence known in 2018's Sorry to Bother You and 2017's Get Out, but this is his finest work yet.
While Kaluuya is thrilling to watch throughout the two-hour movie, Stanfield will keep viewers hanging off the edge of their seats.
Director Shaka King has created a stunning array of emotional tension throughout Judas and the Black Messiah.
Viewers unfamiliar with Hampton's tragic story will no doubt be excited and appalled by what ensues.
Those with background knowledge of Hampton and his legacy will be pleasantly surprised with how the final scenes of the movie play out.
Judas and the Black Messiah is an engaging and nerve-wracking film. The script and visual display are top-notch, but the movie is stolen by Kaluuya and Stanfield as Hampton and O'Neal respectively. Kaluuya gives a commanding performance, while Stanfield's nuanced role is sublime, making them both stand out from all other performances of late.
Judas and the Black Messiah is out in cinemas on February 26.