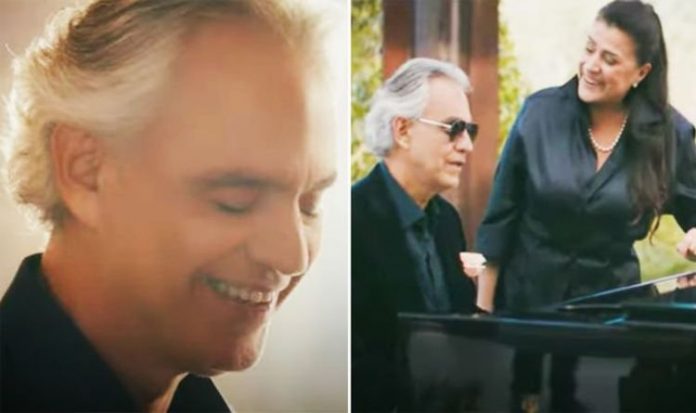 Andrea Bocelli is no stranger to duetting with other incredibly talented singers. Last year he featured ones with Alison Krauss and Cecilia Bartoli on his new album Believe. The latter was for a stunning track called Pianissimo, which the Italian tenor has now released a Lullaby Mix version of remixed by Ross Callum.
The softer and gentler duet of Pianissimo is played over beautiful shots of the sky and mountains at sunset.
Bocelli made an intimate music video for the track with Bartoli last year that was shot in the grounds and oval room of Tuscany's Tenuta Corbinaia.
The short film was directed by Riccardo Guarnieri and Luca Scota and features gorgeous overhead shots of the Italian countryside during the late summer.
Pianissimo was composed by Mauro Malavasi, who has worked alongside Bocelli for almost three decades.
READ MORE: Andrea Bocelli releases BEAUTIFUL duet Pianissimo with Cecilia Bartoli – WATCH the original music video
Express.co.uk caught up with Bocelli at the end of last year and asked him about his new duets with Bartoli and Krauss.
The 62-year-old told us: "This is an album I hold very dear to my heart; the fruit of a long internal journey even more so than an external, artistic one.
"It's a project with a purpose to put into words the musical dimension of spirituality by offering music that – at least for our intentions – can bring peace and harmony to those who listen to it.
"Regarding the duets, it was a great joy to intertwine my voice with that of the great Cecilia Bartoli, the most important mezzo-soprano of our time with her own thriving career."
Bocelli also highlighted how it was "a great joy" to duet with Krauss, who he called "one of the true icons of American music."
Due to the pandemic, the three singers had to record with each other remotely.
The Italian tenor said: "In compliance with local health precautions, we opted to record the songs separately: Cecilia in Monte Carlo and Alison in Nashville.
"Of course, before and after, we got together over video calls several times to optimise the recording and sing 'together', albeit at a distance!"
Meanwhile, Bocelli's children are following in their father's footsteps. Last year, his daughter Virginia duetted with him for his live-streamed Believe in Christmas concert.
The eight-year-old sang Leonard Cohen's Hallelujah with her father during the performance. Then there's his son Matteo Bocelli who will be releasing a debut solo album later this year.
Matteo wrote on Instagram this weekend: "It's been two years since my debut at the most important music festival in Italy. I'll never forget the incredible feeling of walking on to the stage for the first time.
"That moment marked the beginning of an intense creative journey – I can't wait to share my music with you soon."