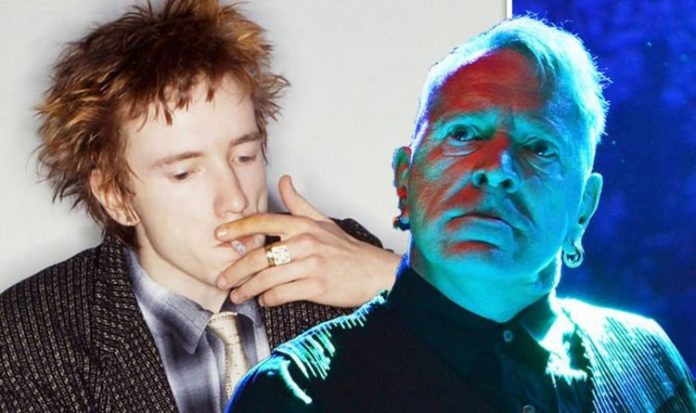 Johnny Rotten, real name John Lydon, became well known for his time in the Sex Pistols, the punk band of the 1970s. The band ended shortly after it began, but has come back a few times over the years. Since then Johnny has fronted Public Image Ltd and worked in the music industry – but how old is he and what is he doing now?
Johnny Rotten, who now goes by his real name John Lydon, is now 65-years-old, celebrating his birthday on January 31.
He was born to Irish parents in London, and lived near the Arsenal stadium in Holloway.
The eldest of four, John helped look after his siblings while also roughhousing with other local boys.
As a young lad he contracted spinal meningitis and was very ill for a number of years, having regular hospital treatments, before he began working at the age of 10.
READ MORE:  1960s lyrics quiz: Can you complete the lyrics and name these songs?
John went to college and met Sid Vicious, and moved into a squat while working on building sites to earn some money, and playing in various clubs with his musician friends.
He soon became part of the punk scene at Malcolm McLaren and Vivienne Westwood's shop SEX, and quickly he was chosen as frontman of the Sex Pistols a few years after they had been performing.
He said of his joining the band: "It started out as one night at Brixton.
"We thought maybe 5,000 will want to see us, but it's turned into a bigger monster than any of us had any concept of.
"It'll be awfully tiring on the old tonsils. That's a lot of screaming to get out of the way.
"And we're not what you'd call the fittest chaps on the block. I haven't done a lot of performing in the last three years.
"But I sing whenever I'm in the shower – which is about twice a decade."
Sid Vicious joined the band after a fall out with the original bassist and they released their second single, God Save the Queen, followed by their only album, Never Mind the B**s, Here's the Sex Pistols.
John left the group after tensions grew between them in 1978, and started the band Public Image Ltd with Keith Levene and Jah Wobble.
DON'T MISS
The Sex Pistols has reunited a number of times over the years, while Public Image Ltd has also continued with an ever changing line-up, though John has remained the sole member.
He released his only solo album in 1997, called Psycho's Path.
Outside of music, he has had two televisual roles, one of which is his giving his voice to an animated series, and written several books.
One of these is an insight into punk culture, which he wrote in conjunction with others as a collection of essays.
He also appeared on various TV shows over the years, including an appearance on Judge Judy and I'm A Celebrity… Get Me Out of Here!
John is largely based in the USA now, having become an American citizen in 2013.
As in his early career days, he is outspoken about politics, and has spoken of his support for former president Donald Trump, and has made his views on issues like The Troubles in Northern Ireland and Brexit known.
His stage name, Johnny Rotten, which he put to one side after his time with the Sex Pistols ended, he claims came from his oral hygiene.
He told The Guardian he was given the name as his teeth were 'turning green,' and that it was a name given to him by others.
His most recent activities are writing a book, being the subject of a new documentary, The Public Image is Rotten, and appearing on Loose Women to talk about caring for his wife, Nora, who has Alzheimer's.