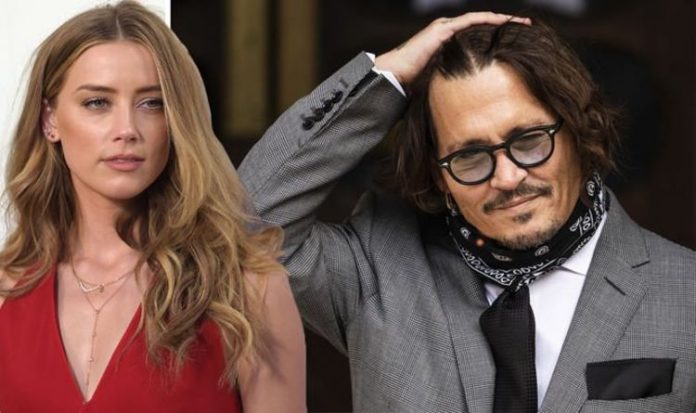 Last year Heard appeared in court to testify against Depp who had filed a lawsuit against a British newspaper. The publication suggested the 57-year-old actor was a "wife-beater", claims he disputed. The former couple revealed details about their relationship throughout the trial including allegations Heard chopped off a portion of Depp's finger during an argument. Heard has now reportedly been dropped from Aquaman 2 following a "physical test".
According to Yahoo! Heard's firing does not have anything to do with her public court battle against Depp.
The report says Heard "gained a little weight before the commencement of the shoot and the makers are not keen on continuing to work with her".
Australian website Sausage Roll said: "Amber Heard did not pass her physical examination.
"She's put on some pounds and is in terrible shape. There is a clause in her contract which says she is required to be in good form ahead of shooting and she violated that."
Heard played Mera in the 2018 blockbuster Aquaman, the love interest of the titular character, Arthur Curry (played by Momoa).
READ MORE: Pirates of the Caribbean: Johnny Depp fights for studio return
If Heard has been fired from her role as Mera, she would join Depp in losing jobs since their public high court battle.
Shortly after the trial ended Depp announced his Fantastic Beasts exit on his Instagram account, writing: "In light of recent events, I would like to make the following short statement. Firstly I'd like to thank everybody who has gifted me with their support and loyalty. I have been humbled and moved by your many messages of love and concern, particularly over the last few days.
"Secondly, I wish to let you know that I have been asked to resign by Warner Bros. from my role as Grindelwald in Fantastic Beasts and I have respected that and agreed to that request.
"Finally I wish to say this, The surreal judgement of the court in the UK will not change my fight to tell the truth and I confirm that I plan to appeal. My resolve remains strong and I intend to prove that the allegations against me are false.
Depp continued: "My life and career will not be defined by this moment in time. Thank you for reading. Sincerely, Johnny Depp."
Depp has also been reportedly dropped from Disney's Pirates of the Caribbean, following claims Margot Robbie was replacing him.
Robbie later confirmed she has joined the upcoming Pirates of the Caribbean reboot.
Depp's fate in the series has not been confirmed.
READ THE ORIGINAL REPORTS HERE