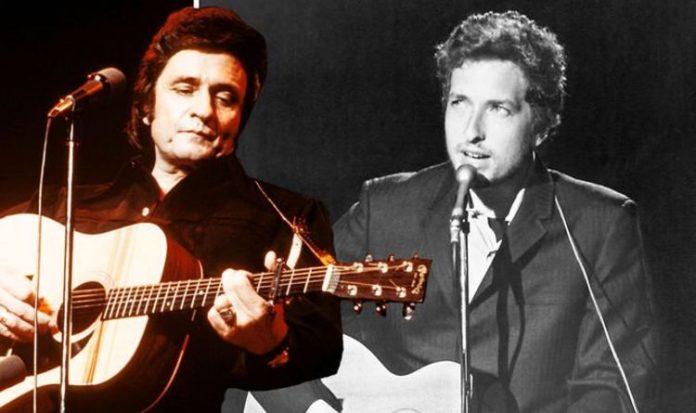 Johnny Cash had his own TV series, on which he sang with many people. One of these was Bob Dylan, and the pair even performed a song together on Bob's later album. Johnny was a great defender of Bob's work, but were they friends?
While it is unclear whether Johnny and Bob were close at the time of Johnny's death on September 12, 2003, there was certainly a relationship between them.
Johnny and Bob met at the Newport Folk festival in 1964, and Johnny spoke of how they began their correspondence in his autobiography.
He said: "I had a portable record player that I'd take along on the road, and I'd put on [The] Freewheelin' [Bob Dylan] backstage, then go out and do my show, then listen again as soon as I came off.
"After a while at that, I wrote Bob a letter telling him how much of a fan I was.
READ MORE:  Garth Brooks wife: Was Garth Brooks married before he met Trisha?
"He wrote back almost immediately, saying he'd been following my music since I Walk the Line, and so we began a correspondence."
When Johnny died, Bob spoke out about his feelings on The Man in Black, simply saying 'Cash is King' and confirming how he had become a fan when he heard Johnny's lyrics.
He also told a story of how Johnny defended his music in the press, which meant a great deal to him and helped launch their working together.
Bob told Rolling Stone: "There wasn't much music media in the early Sixties, and Sing Out! was the magazine covering all things folk in character.
He continued: "Truly he is what the land and country is all about, the heart and soul of it personified and what it means to be here; and he said it all in plain English.
"I think we can have recollections of him, but we can't define him any more than we can define a fountain of truth, light and beauty.
"If we want to know what it means to be mortal, we need look no further than the Man in Black.
"Blessed with a profound imagination, he used the gift to express all the various lost causes of the human soul. This is a miraculous and humbling thing.
"Listen to him, and he always brings you to your senses. He rises high above all, and he'll never die or be forgotten, even by persons not born yet — especially those persons — and that is forever."
While this was written as a tribute to Johnny on his death, Bob admitted he and Johnny were not close when the Man in Black died, but that he was 'guided' by Johnny throughout his career.
Bob Dylan appeared on Johnny's TV show, The Johnny Cash Show, on May 1, 1969.
However, their working relationship had begun earlier, as on February 17, Bob and Johnny recorded the folk classic Girl From The North Country in Nashville at CBS Studios.
The track appeared on Bob's Nashville Skyline album, having already appeared as a solo version on his second album, The Freewheelin' Bob Dylan.
This was a duet version, and on Johnny's show, they performed the song again in a rendition which is well-loved today.