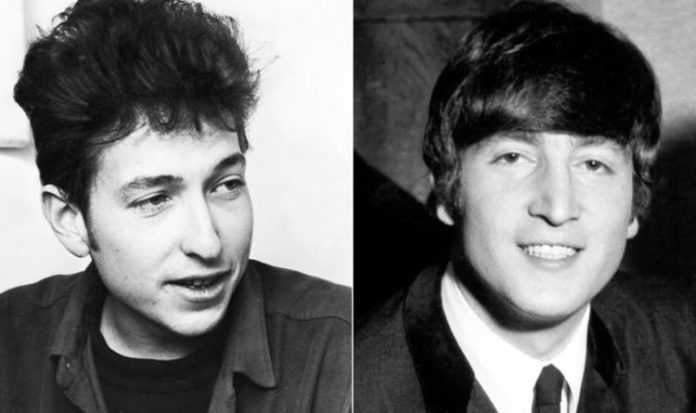 John Lennon remains one of the most iconic and highly venerated music stars of all time – and not just as a performer and musician. As part of the Beatles songwriting team with Paul McCartney he was responsible for a dazzling parade of sings from Can't Buy Me Love to I Am The Walrus. As a solo star, he composed the legendary likes of Imagine and Jealous Guy. So, why on Earth would Bob Dylan make fun of him? It seems he had a rather good reason…
Like many of their contemporaries, The Beatles regarded Dylan as the leading light of a new form of singer-songwriting.
Shortly before the band formally split up, they were famously photographed attending his high-profile concert on the Isle of Wight on August 31, 1969, with their respective partners at the time.
The Liverpool quartet had previously met up with the American star at a legendary encounter in New York, in February 1964, during the debut tour of the US.
Apparently, Ringo Starr reported that they all smoked marijuana together and famous writer Allen Ginsberg confirmed that they all got along really well. However, the seeds were sown for later problems.
Beatlemania had spread for the UK across the globe and American audiences were just as crazy for the band, who were riding high on hits like Please Please Me, From Me to You and She Loves You. 
Yet the band was already keen to expand its musical horizons and starting on a path that would lead to Sgt Pepper's Lonely Hearts Club.
They all regarded Dylan as an inspiration, especially Lennon.
The following year later, John Lennon included his composition Norwegian Wood (This Bird Has Flown) on the Beatles album Rubber Soul. 
There was no mistaking that the song rather blatantly recreated Dylan's trademark lyrical style and sound.
Moving away from the standard Beatles guitars and drum-lead sound, the track is an atmospheric folk music classic.
Apparently, when he heard the track, Dylan said: "What is this? It's me, Bob. John's doing me! Even Sonny & Cher are doing me, but, f***ing hell, I invented it."
Not only that, Dylan's next album Blonde on Blonde featured a track that was a pointed mockery of Norwegian Wood.
Fourth Time Around contains lyrics which clearly echo (and then surpass) those of Norwegian Wood and it finishes with a clear rebuke for the person who everyone now believed had flagrantly copied him.
Norwegian Wood contains the lines: "I sat on a rug biding my time, Drinking her wine. We talked until two and then she said, 'It's time for bed.'"
Fourth Time Around includes the lines: "I stood there and hummed, I tapped on her drum and asked her how come. And she buttoned her boot, And straightened her suit. Then she said, 'Don't get cute.'"
But it's the final verse which makes Dylan's feelings clear: "You didn't waste time, And I, I never took much. I never asked for your crutch, Now don't ask for mine."
Fans and the music press took this to be a direct message to Lennon to find his own style and not lean so heavily on Dylan's.