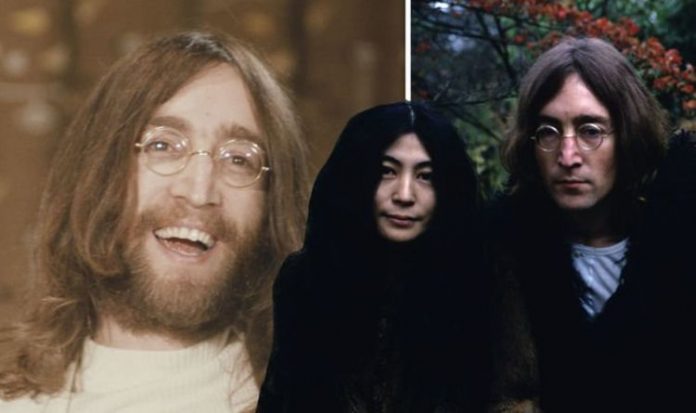 John Lennon's death is still a shock for many fans of the Beatles, and it is sometimes hard to believe he and his former bandmate George Harrison are not around. Lennon's death was at the hands of Mark David Chapman, who had become obsessed with Lennon and some other stars. But what happened to John Lennon – where was he murdered and buried?
In the time leading up to Lennon's death the former Beatles star had written an album with his then wife, Yoko Ono, called Double Fantasy.
He wrote the work with his wife after a hiatus from writing and music, which had lasted around five years.
In 1980, however, Lennon released a single (Just Like) Starting Over, which was written and performed by Lennon, while having Ono's song Kiss Kiss Kiss as a B-side.
A month later, he and Ono released Double Fantasy, which was Lennon's seventh studio album, though he was unaware it would be his last.
READ MORE: Elvis Presley bombshell: Did Elvis write his own songs? The shocking truth
The songs are from both of them, rather than work together, and the album largely alternates songs between them.
Following the release, on December 8, 1980, Lennon autographed a copy of the album for fan Mark David Chapman, before leaving where they lived at The Dakota in Manhattan for a recording sessions at the Record Plant, then in New York City.
After the session, Lennon and Ono returned to their apartment in Manhattan in a limo at just before 11pm, and walked through the archway of their building.
It was there that Chapman shot Lennon in the back at close range.
While he was shot at The Dakota, he was rushed to the Roosevelt Hospital in New York City, but was pronounced dead on arrival at 11pm.
It is likely Lennon died in the police cruiser en route to the hospital, though it is uncertain whether he died straight away on being shot.
Chapman has been understood to have been furious at Lennon for his public statements, such as being "more popular than Jesus," despite being a Beatles fan.
He is also believed to have contemplated killing other public figured, such as Ronald Reagan and Elizabeth Taylor, but he had no prior convictions before the shooting.
READ MORE: John Lennon's relationship with Yoko Ono 'OBVIOUSLY' on rocks before affair says May Pang
After hitting Lennon four times in the back, despite shooting five times, he remained at the scene reading J.D. Salinger's novel The Catcher in the Rye, which he is reported to have become obsessed by in the years leading up to the murder.
He was arrested at the scene and was sentences to 20 years to life in prison with mental health treatment, and has since been refused parole many times.
Ono released a statement the following day, asking people to "love and pray" for him as he did for the human race.
His remains were cremated, rather than a burial taking place, and Ono scattered his ashes in New York's Central Park, where the Strawberry Fields memorial was later erected in his honour.
Double Fantasy later won the Grammy for Album of the Year in 1982, while (Just Life) Starting Over and the album topped the charts in the UK and the US.
Imagine hit the top spot in the UK chart and Happy Xmas went to Number Two after his death, and later in 1981, Roxy Music's cover of Jealous Guy, recorded in tribute to Lennon, also went to Number One.
When Lennon died, he had two children, Julian and Sean.
He is survived by two members of the Beatles: Paul McCartney and Ringo Starr.