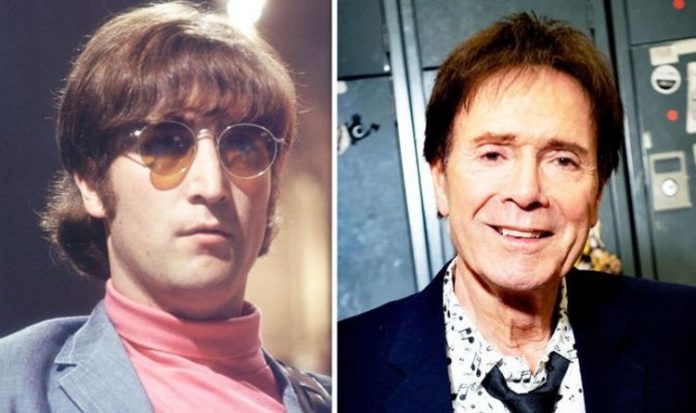 In the early days of The Beatles, Sir Cliff didn't hold out hope for the Liverpudlian band's success and even made a joke that they sounded "like something that you tread on". Despite this, the Summer Holiday singer, who turned 80 last month, said he was an "unofficial PR man" for the group during radio interviews. He claimed to have asked DJs to play their songs Love Me Do and Please Please Me when asked what his favourite hits from another group were.
Sir Cliff had topped the UK charts eight times, including an eight-week stint at No 1 with Wonderful Land, ahead of John Lennon's request in 1963.
Despite initially thinking The Beatles "hadn't sounded very good at all" when he first heard them "covering some old track", his opinion soon changed.
When he met the Fab Four at a house party for The Shadows guitarist Bruce Welch, he thought they were "friendly and smart". 
Sir Cliff and The Beatles sat in the kitchen and "chatted away like mad" during their first encounter – shortly after the band had finished a gig at the Lewisham Odeon.
He recalled: "John Lennon was very funny and asked me to delay releasing my next single to give their follow-up to Please Please Me a chance."
The Beatles were yet to top the charts at that stage but had crafted their first Official UK Singles Chart No 1 hit From Me To You.
They played a preview of the song to Sir Cliff but he claimed the band were dismissive of the song and doubted it would be a success.
He recalled: "The Beatles glanced at each other and shrugged, then John took the guitar and started strumming.
JUST IN: Cliff Richard predicted The Beatles would fail before U-turn
From Me To You was the third single they released and it topped the Record Retailer Chart, which is now known as the Official UK Singles Chart.
Despite the track's success on home soil, it failed to make a mark in the US until a cover was released by Del Shannon later that year. 
Sir Cliff was pleased by his prediction about the future success of From Me To You and said: "I was absolutely right."
In later extracts from The Dreamer, he claimed to have struggled to record at Abbey Road studios because The Beatles were always there. 
When he spoke to Sir Paul McCartney about it, the Beatle thought that record label EMI favoured Sir Cliff because whenever they tried to book a session they were told he was using it. 
He recalled: "Every time we phone up to book it, we got told, 'No, you can't have it – Cliff is using it!'"
Sir Cliff responded: "That's funny! Every time I ask to use it, they always say that you are in there!"
Cliff Richard: The Dreamer was published by Ebury Press last month. It is available here.