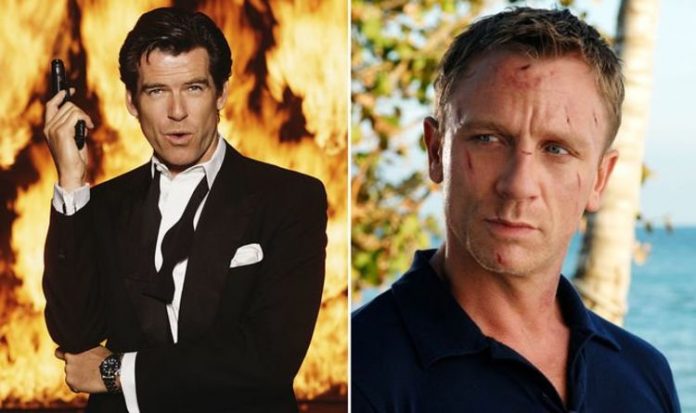 To date there have been 25 James Bond movies, with No Time To Die being the latest. Now 30-odd 007 movie actors and experts have been polled alongside 2,200 superfans to rank the 24 Bond movies that are currently available. And it turns out that Pierce Brosnan's GoldenEye has topped Daniel Craig's Casino Royale.
Both Bond movies were reboots for the 007 franchise and impressively both were directed by Martin Campbell.
Interestingly, Yahoo's original poll of just the actors and experts saw George Lazenby's On Her Majesty's Secret Service come out on top.
But perhaps the biggest surprise in the combined poll with GoldenEye at No 1 was seeing the latest outing in 2015's Spectre come rock bottom behind Die Another Day and Quantum of Solace.
Here's the full list of Bond movies ranked by 007 actors, experts and superfans.
READ MORE: James Bond: Pierce Brosnan on Daniel Craig's NERVES of taking on 007
Speaking with Daily Mail in 2018, Brosnan said: "I was caught between Sean Connery's Bond and Roger Moore's Bond, and it was only really in GoldenEye that I did my Bond."
The 67-year-old explained how he had "issues for many years" having been dropped from the role, after 2002's Die Another Day, by a teary Barbara Broccoli over the phone.
Nevertheless, he's much more positive about his time as 007 almost 20 years since he left the role.
Craig's predecessor said: "Now I just have great feelings about Bond. I loved the irony of being an Irishman playing this quintessential English character. I love what it did for me as an actor."
Meanwhile, Craig's fifth and final Bond movie has been delayed once again to October 8, 2021.
No Time To Die is a direct sequel to Craig's last 007 outing in 2015's Spectre.
The synopsis reads: "Five years after the capture of Ernst Stavro Blofeld, James Bond has left active service. He is approached by Felix Leiter, his friend and a CIA officer, who enlists his help in the search for Valdo Obruchev, a missing scientist.
"When it becomes apparent that Obruchev has been abducted, Bond must confront a villain whose schemes could see the deaths of millions."
READ THE FULL YAHOO ARTICLE HERE