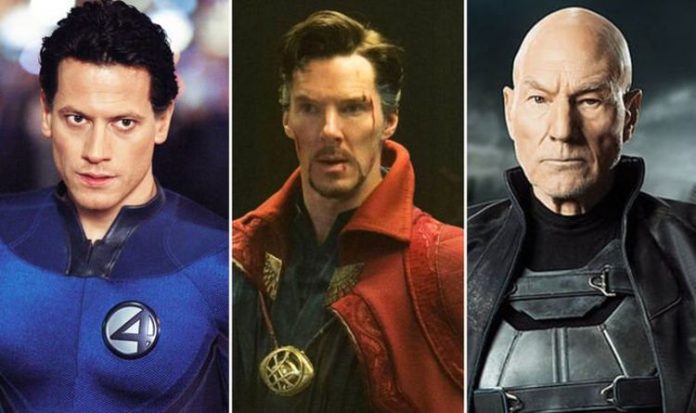 Next year Benedict Cumberbatch returns for Doctor Strange in the Multiverse of Madness. The follow-up to Disney+ show WandaVision is expected to see the Avenger wizard and Scarlet Witch dealing with alternate realities. And the latest rumour is that Marvel's Doctor Strange 2 will see Mr Fantastic, Professor X and Namor team up with the Sorcerer Supreme as The Illuminati.
This report comes from Giant Freakin Robot, whose trusted source correctly confirmed that War Machine would feature in The Falcon and The Winter Soldier.
In Marvel Comics The Illuminati are a group of superheroes who join forces and secretly work behind-the-scenes.
The original group included Doctor Strange, Iron Man, Mr Fantastic aka Reed Richards of the Fantastic Four, Black Bolt the King of Inhumans, Professor X aka Charles Xavier and Namor the King of Atlantis.
In the MCU, Tony Stark may be dead, but Doctor Strange is very much around and with the Disney-Fox merger, Marvel Studios can now use Fantastic Four and X-Men characters like Reed Richards and Charles Xavier.
READ MORE: Doctor Strange 2: Jennifer Lawrence's Mystique 'wanted by Marvel'
With the multiverse presumably under threat in Doctor Strange 2, bringing together some of the smartest Avengers as The Illuminati makes a lot of sense.
Of course, it's possible that some of them won't even be from the same universe.
With the introduction of Evan Peters' Quicksilver from the Fox X-Men movies into WandaVision, anything seems possible now.
While John Krasinski is a fan favourite to play Mr Fantastic, perhaps Ioan Gruffudd could return or even Miles Teller's Reed Richards from the ill-fated Fantastic Four reboot.
This alleged leak comes from We Got This Covered, whose trusted source correctly predicted Jaimie Alexander would return as Sif in Thor Love and Thunder.
But surely such and Avengers-level final fight won't be as simple as a battlefield charge like the conclusion of Endgame?
After all, Doctor Strange in the Multiverse of Madness will be dealing with alternate realities, so perhaps such a fight will move through different universes.
And with The Illuminati in the comics meeting up secretly to share information, maybe this will be done across the multiverse.
Whatever happens in Doctor Strange in the Multiverse of Madness, the 2022 movie feels like it's heading for an Avengers 5 with an even madder multiverse.
One of the most popular theories out there right now is that the comic book storyline of Secret Wars will be adapted.
Fans will know this saw different incarnations of the same superheroes from alternate realities brought together. Just imagine all the actors who have played the same character across the MCU, Fox, Sony and Netflix Marvel universes coming together to top Avengers Endgame.
Doctor Strange in the Multiverse of Madness is released in cinemas on March 25, 2022.
READ GIANT FREAKIN ROBOT'S FULL REPORT HERE