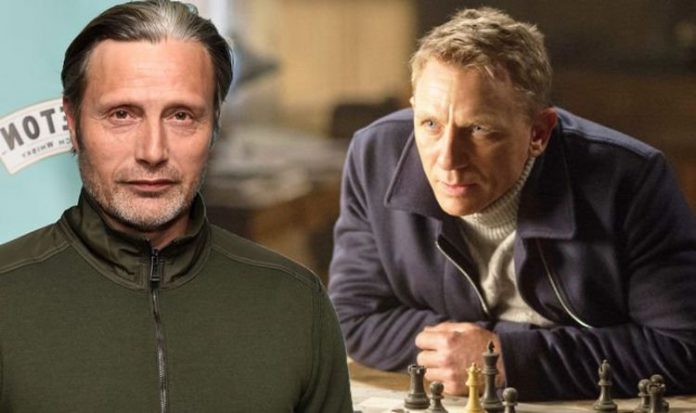 Mikkelsen welcomed Craig into the James Bond universe in 2006 as the horrifying gangster Le Chiffre. The one-eyed villain battled against 007 during Casino Royale's thrilling poker scene, before he captured the spy and tortured him. By the end of the film, Le Chiffre was killed by his boss, Mr White (played by Jesper Christensen) but Mikkelsen claims he could still return to the franche, saying: "I would have liked to have gone back with Daniel Craig."
Mikkelsen said he could come back in a new role, just like Maud Adams, a previous villain in the Bond franchise, had done.
Adams played Andrea Anders in 1974's The Man with the Golden Gun, a partner of the assassin Francisco Scaramanga.
Later in the movie she was killed by Scaramanga in an attempt to protect Bond.
But nine years later Adams played the titular character in 1983's Octopussy.
READ MORE: James Bond: Priyanka Chopra wants to be the next 007 after Craig
Netflix's Bridgerton star Regé-Jean Page is third in the running to become 007 after a fan outcry began calling for the star to don the tuxedo.
Page has an incredible 5/1 on becoming Bond, defeating Idris Elba and Sam Heughan of Outlander fame.
Male actors aren't the only people in the running to play the iconic hero, however.
Ladbrokes recently gave 10/1 odds on the next 007 actor being a woman for the first time.
Hollywood star Priyanka Chopra recently announced her interest in playing "Jane Bond".
She said in an interview: "I mean it's not up to me to make it a thing. It's up to people to be ready to watch a female Bond.
"We can keep talking about it, but someone's got to make it. And if it ever gets made, I would obviously love to throw my name in the mix, as I have, as I will."
James Bond No Time To Die is due out in cinemas on October 8, 2021.
READ THE ORIGINAL REPORT