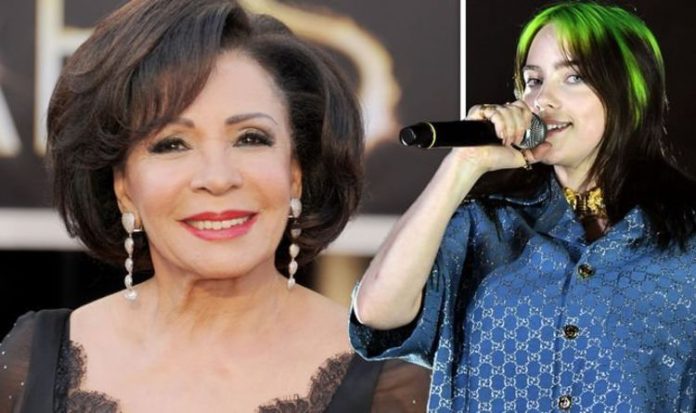 James Bond's latest flick, No Time To Die, has had a turbulent release so far. The film was originally due to come out in April of this year before it was pushed back due to the coronavirus pandemic. The new date for the film's release was November 19, 2020 – but this date was once again moved to April 2, 2021. The song that is coupled up with the upcoming final Daniel Craig flick was released months ago, in February of 2020.
The song, No Time To Die, was written and performed by young singer songwriter Billie Eilish.
Some fans deemed the choice of Eilish as the latest Bond artist as unconventional, due to her young age and relative infancy in the music industry.
Despite this, the song went straight into the number one spot in the UK charts, cementing her as the second artist to ever claim a number one with a Bond theme song.
She followed Sam Smith's 2015 track Writing's on the Wall, which was written and performed for Spectre.
READ MORE: Next James Bond: '007 producers seek younger Timothée Chalamet type'
Perhaps the most legendary of all of the Bond theme song singers is the iconic diva Dame Shirley Bassey.
Bassey is best known for performing the excellent 1964 track Goldfinger, 1971's Diamonds are Forever, and 1979's Moonraker.
The Welsh singer is the only artist who has performed three Bond songs, as all other artists only get one chance at playing a highly-coveted track.
The 83-year-old recently gave an interview in which she commented on Eilish's new song, and how she did on the Bond track.
Zimmer spoke earlier this year about how he and the Bond team chose Eilish and her brother Finneas for the job of the No Time To Die theme song.
He said: "It's a Bond film, there's going to be a song and there was like a box full of songs lying around that people were listening to and trying to make decisions on them.
"They wanted me to be part of the decision-making process. There was this small, leanly produced, very personal song by Billie."
Despite some producers saying Eilish's song was "not good," Zimmer fought her side, saying: "[I said,] 'No, no, no, here's the mistake you're making: she and Finneas haven't seen the movie yet. They don't know what they're writing about. Get them on a plane, get them over here.'"
Zimmer even compared the 18-year-old to Dame Shirley when deciding to pick her for the job.
He continued: "I'd never met [Billie and Finneas], but I felt [that] there is Shirley Bassey, there is Adele – everybody who's ever worked on [Bond] has come at it with a strong style of their own, with conviction and a great commitment.
"And this song had it. It maintained an intimacy, which I thought was beautiful."
James Bond No Time To Die is due out April 2, 2021.
READ THE ORIGINAL REPORT HERE