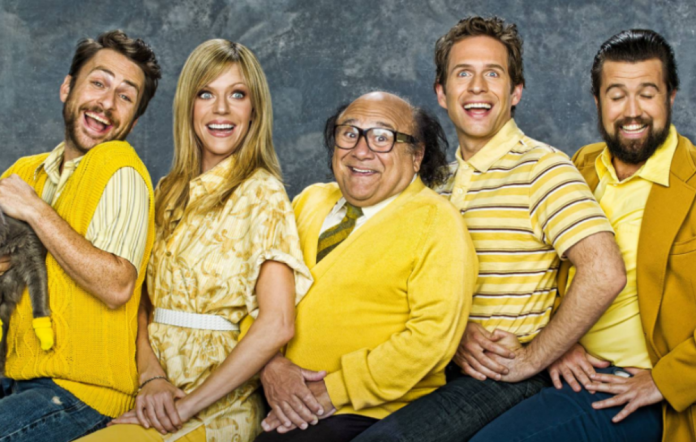 [ad_1]

Everything we know so far about the return of the controversial black comedy based around Paddy's Pub.
The spectacle of a bunch of disparate, self-centred, back-stabbing sociopaths shouting at each other has sustained Big Brother for eighteen series so far. So it's no wonder that It's Always Sunny In Philadelphia, the black comedy sitcom following the depraved antics of The Gang running Paddy's Pub and built on the same solid foundation of laughing at spiteful idiocy, is running The Adventures Of Ozzy And Harriet close for the title of the longest-running live-action sitcom in US history.
As we've all no doubt caught up with season 12 in its two months on Netflix, it's time to look forward to the return of the sitcom equivalent of Reservoir Dogs. Here, with dotted spoilers, is everything we know so far about season 13.
It's Always Sunny In Philadelphia season 13: air date
Even before season 12 aired, seasons 13 and 14 had already been confirmed, thanks to its massive global following. "If anyone doubts the power of a camcorder and a dream, just look at It's Always Sunny in Philadelphia, which was a DIY backyard pilot when Rob [McElhenney], Charlie [Day] and Glenn [Howerton] brought it to FX and will go down in TV history as one of the most loved and enduring comedies," said FX's President of Programming Nick Grad. "Few shows make it this far or have such devoted fans, and we owe it all to the creative vision and great humour of the creators and cast who keep Sunny fresh and inventive every season."
There might, however, be a hefty wait for season 13. In May, Kaitlin Olson (who plays Dee) revealed that the show is on an extended hiatus after the new season had been pushed back a year to allow for the cast to complete other projects. "At the end of this coming shooting season of The Mick I'll step right into Sunny after that," she told TV Guide. So it may well be 2019 before the Gang's all here again.
Who is in the Season 13 cast?
And even then, it might not be the whole Gang. Although Danny DeVito is expected to return as Frank Reynolds for the next two seasons at least, there's been much speculation about whether Glenn Howerton will be back as Dennis. The final episode of season 12 closed with Dennis declaring he was leaving Philadelphia to "go be a dad" while the rest of the Gang shook their funky butts to the Tom Tom Club.
Glenn has been vague in interviews whether this means he's actually leaving the show in order to take a role in a new sitcom called AP Bio, alongside Pattyon Oswalt, which he has been confirmed to appear in. "It's a little complicated," he told Uproxx. "I may seem a little bit evasive here, and I don't mean to. It's not entirely certain whether I am or am not. I might be. I might be, but I might not be. That really is the truth. Just to be clear, to dispel any potential weirdness, it has nothing to do with my relationship to anyone on the show or Rob or Charlie or anyone like that. It's partially a creative and personal decision… I'm certainly staying open to the possibility of doing more, but there is a possibility that I will not."
"We knew we wanted to leave it open-ended," he continued. "We didn't want to do something where Dennis died or anything like that, anything hokey. For my part, I'm just a big fan of subverting expectations whenever possible… I like the idea of taking a character who we've built up to be potentially a serial killer and realize that it may be the exact opposite. He may be an extraordinarily fragile and emotional person who has created a shell around himself to try to protect himself."
He sounded a bit more optimistic about Dennis featuring in an interview in January 2018, saying that he "has not officially left" the show.
"This is just a totally separate project. Look I mean, I hope people — I think one of the tough things about doing a show for 12 years is people might have a hard time seeing you as anything else. Um, I realize that, that could be a little bit of a struggle for me as an actor. But that's why it was important for me to get to do something with someone who has a distinctive voice, like Mike."
When asked by a reporter whether he could do both Always Sunny and A.P. Bio he replied "absolutely."
There's also a chance that Mindy Kaling could be featuring in the show, as she uploaded a photo of herself reading a script from the upcoming season.
The rest of the Gang should be back though: Olson as Dee, Charlie Day as Charlie Kelly and McElhenney as Mac.
It's Always Sunny In Philadelphia season 13: what's the plot?
Obviously it's early days, but we can certainly expect to see Mac explore his new out-of-the-closet lifestyle and we'll hopefully find out whether Charlie and the waitress is a relationship built to last.
Are there any season 13 clips or trailers?
Not yet, but watch this space, we'll be updating as and when more info emerges.
[ad_2]