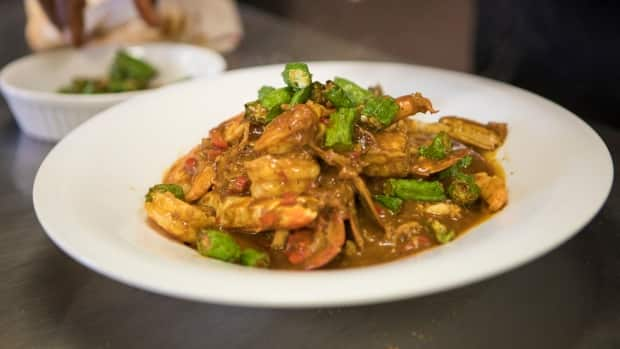 [ad_1]

A decade ago, barbecue options in and around Toronto were limited to slabs of sauce-covered meat served at truck stops and the numerous rib fests that take place in the summer months throughout the province.
In any of those instances, barbecue has been more about the syrupy sauce that covered large slabs of meat than about the meat itself. And the preparation of the meat was never memorable.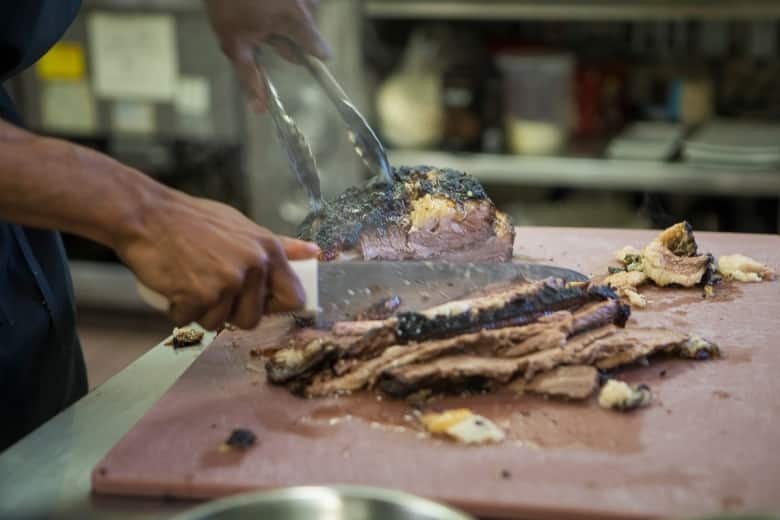 Chef Jean Rimple of RD's Southern BBQ in Mississauga starts preparing the restaurant's barbecue dishes at 4 a.m. (Suresh Doss/CBC)
Then, like a thick plume of wood smoke, the fever for American barbecue quickly spread throughout the Greater Toronto Area. There came a wave of dedicated establishments starting with the Stockyards, then Adamson BBQ, Smoke Signals Barbecue and Barque.
Like with any other form of food, the outer layers of gateway barbecue dishes paved the way for state-specific cooking with smoke and meat. We suddenly had barbecue that was representative of places like Austin and Lexington in the U.S.
At RD's Southern BBQ in Mississauga, owner Jean Rimple's style is a blend of Tennessee barbecue mixed with Cajun influences.
"People want to know what is authentic … it is about a time in history," the chef said.
In the world of American barbecue, Tennessee-style has the most range because of its rich history. Ribs can be "dry" or "wet" and sauces can include a plethora of ingredients.
The menu at RD highlights all the classic barbecue dishes, from racks of glazed ribs to mountains of pulled pork.. There's also a great rib tip appetizer on the menu, it's a great snack if you prefer bits of crunchy cartilage.
Menu an homage to chef's family history
The barbecue is good, but what I find more impressive is a small assemblage of southern dishes that Rimple has scattered across the menu. The cooking of the south and the chef's family history are told through wonderfully layered plates like blackened catfish, étouffée, jambalaya and gumbo. Those are the real stars on the menu, and I recently learned that the recipes go back many generations in Rimple's family.
Rimple's great grandparents fled Louisiana in the late 1800s to escape white supremacy and the first Ku Klux Klan movement.
"It was a very dark time in the south. My great grandparents were responsible for moving large parts of our family to La Espanola, also known as Haiti," he explained.
Chef Jean Rimple opened RD's Southern BBQ three years ago in Mississauga. He was born in Haiti but moved to Montreal to get away from the dictatorship of the Jean-Claude Duvalier. (Suresh Doss/CBC)
In Haiti, where Rimple was born, his family established a rum distillery and a lemon zest factory — two businesses that were very successful. But the family was forced to move again in the 1970s.
"This was the time of the Haitian boat people. We were fleeing a dictatorship," Rimpel said.
His family, along with thousands of Haitians, escaped from the regime of Jean-Claude Duvalier and  his infamous Tonton  Macoute militia. Many Haitians fled by boat to the United States, but Rimple's family moved north to Montreal.
"My mother was a well-known cook in the family. My great aunt and her maintained a list of recipes that go back to our time in Louisiana and New Orleans," he said. 
"That was my initial inspiration to cooking, then came the barbecue," Rimple recounted, explaining that he would spend many summers during his youth getting reacquainted with the south when he would visit his uncle in Baton Rouge to learn about barbecue.
"I spent time travelling with him to barbecue fairs and shows. He was a well-awarded pit master," Rimple remembers.
Restaurant opened 3 years ago
Eventually his cooking career brought him to Mississauga. He opened RD's Southern BBQ three years ago on a lacklustre strip of Hurontario with most of his customers coming in from corporate offices.
Recently after a memorable meal at RD, I managed to convince the chef to let me into the kitchen. I had recently spent a week eating my way through New Orleans, and the gumbo and étouffée at RD was comparable to — if not in some cases better than — the dishes I had in the Big Easy.
Chef Jean Rimple, left, hopes to pass down the family legacy of southern cooking to his son Osei. (Suresh Doss/CBC)
Once in the kitchen, I asked about both dishes, and Rimple's immediate response was: "it's classic old-style cooking and the art of the roux."
At RD, Rimple and his 24-year-old son, Osei, will start cooking the barbecue dishes as early as 4 a.m. But when it comes to the Cajun and Creole dishes, everything is made "a la minute," which "is why it takes some time to get the food when you order it," he said.
It's all about the roux
Rimple starts off with a simple roux — flour and fat — which he stirs vigorously over heat until it caramelizes. For the étouffée, the roux should be a light mocha. For the gumbo, he says he wants it coffee brown because "the gumbo is a deep, rich dish [so] the roux needs to be really dark and nutty."
In a second pot, Osei cooks the "holy trinity" of vegetables: celery, bell peppers and onions, while occasionally tossing in generous amounts of a house-made spice blend.
Chef Jean Rimple says the lobster étouffée at RD's Southern BBQ 'is special' because 'it is the story of my family … It is nearly 100 years of history.' (Suresh Doss/CBC)
After the mixture is cooked down, Rimple creates the dishes by mixing the tender vegetables with the right roux and then tossing in spices and seafood. The stew is then braised over the stove-top until it reaches the right consistency.
"A gumbo can be made of anything — we go heavy on seafood and finish with okra," he said.
"The étouffée is special. It is the story of my family — seafood from the south and lobster from Canada. It is nearly 100 years of history."
When eating the dishes, time seemed to stand still. My mouth was on fire from the heat of the coffee-coloured gumbo. I was elated by the tender morsels of crab meat and crunchy okra. The étouffée was a lighter, thinner stew, with large pieces of lobster meat and plump shrimp to blanket the spices.
Years ago, Rimple's mother and great-aunt started to compile family recipes in order to preserve them. Both the étouffée and the gumbo recipes date back over a century.
As the primary caretaker of the book, Rimple is hoping to pass on the family legacy to his son.
"It's our family jewel, this book, and I am trying to preserve it," he said.
RD's Southern BBQ is at 25 Aventura Ct. in Mississauga.
Suresh Doss's weekly food segment airs every Thursday on Metro Morning. Watch for video of his jaunts across the city on CBC Toronto's Facebook page.
Do you know a GTA restaurant that Doss should visit? Tweet us @metromorning or send us a message on Facebook. And if you try any of the places he features, we want to see photos!
[ad_2]