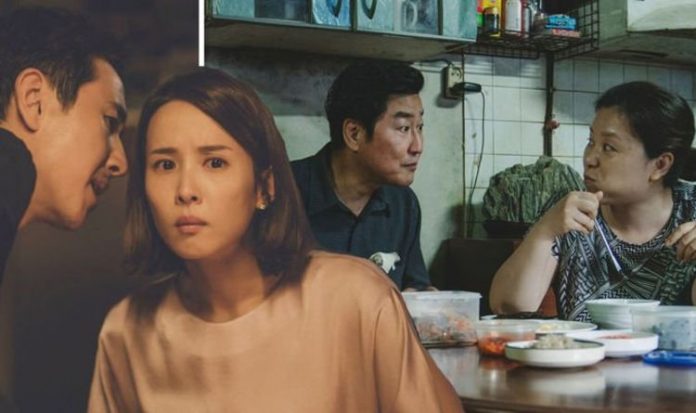 Parasite defied all expectations when it won the Best Picture Oscar at the 2020 ceremony. The film was a fantastic portrayal of a manipulative family and the class structures in South Korea. The director Bong Joon Ho has been in the industry for some time and his win was lauded by his colleagues – but is his famous film streaming on Netflix?
Is Parasite on Netflix?
Parasite is not on Netflix, so subscribers to this platform are unfortunately unable to watch Parasite on here.
However, there is another way to watch the film for UK viewers.
Rather than Netflix, fans of Parasite can watch the movie on Amazon Prime, as it is now available on this platform and as part of the Prime Video subscription.
READ MORE:  Elvis Presley Nancy Sinatra: Did Elvis and Nancy ever date? 'Flirting'
This is a far easier way to watch the movie, given there were initially concerns it would take a while for Parasite to get to DVD or streaming services.
This is because the movie had a fairly limited release to start with, however, once word got out of its potential award-winning flair, this changed and fans were able to watch it more easily.
What is Parasite about?
In general, the less you know about Parasite, the better, however, here is a brief synopsis from Neon, the film's distributor.
The synopsis reads: "Meet the Park Family: the picture of aspirational wealth. And the Kim Family, rich in street smarts but not much else.
"Be it chance or fate, these two houses are brought together and the Kims sense a golden opportunity.
"Masterminded by college-aged Ki-woo, the Kim children expediently install themselves as tutor and art therapist, to the Parks.
"Soon, a symbiotic relationship forms between the two families. The Kims provide 'indispensable' luxury services while the Parks obliviously bankroll their entire household.
DON'T MISS
"When a parasitic interloper threatens the Kims' newfound comfort, a savage, underhanded battle for dominance breaks out, threatening to destroy the fragile ecosystem between the Kims and the Parks.
"By turns darkly hilarious and heart-wrenching, Parasite showcases a modern master at the top of his game."
Director Bong Joon-ho has been on the scene for some time, with his first film, a short called Baeksaekin (White Man), being released in 1994.
His first feature, Barking Dogs Never Bite, broke even after two years of its release, as word of mouth was building internationally to his work.
His second movie was a much larger film, Memories of Murder, but sadly it was passed over by the Cannes and Venice Film Festivals.
The Host, Bong-ho's 2006 movie, was the first which really got a lot of critical acclaim, and it played at the Cannes Film Festival and was even bought for an English-language remake.
His first English-language movie, Snowpiercer, which was based on the French graphic novel Le Transperceneige, was released in 2013 and brought attention to his work in the USA, while also showing more sides to Captain America actor and Snowpiercer's star, Chris Evans.
The director soon partnered with Netflix for the film Okja, which starred Tilda Swinton, before he made his mark with Parasite.
Parasite is available to stream on Amazon Prime Video now