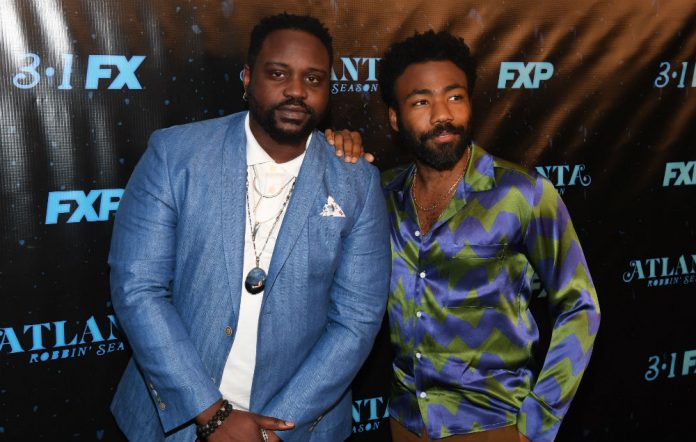 [ad_1]

'Look man, if I was a 12-year-old kid riding down the road and I saw a billboard with three black men up there, I would have shat myself'
There are so many reasons to celebrate Donald Glover's whipsmart TV dramedy Atlanta. Alfred 'Paper Boi' Miles is one of them. We meet the character – played by Brian Tyree Henry – in season one, at the beginning of his promising rap career. Paper Boi's debut self-titled single picks up traction thanks to its infectious chorus, "Paper Boi, Paper Boi, all about that paper, boy", which is blasted from car stereos and local radio stations. And Earn Marks (Donald Glover), a broke Princeton College drop-out, determines to convert his cousin's beats into bucks.
Paper Boi is a burly, straight-talking rapper who deals drugs to make ends meet. Despite this (and despite the fact that he shoots someone in the first episode) he's a very likeable character. "I scare people at ATMs, I have to rap", he declares in an early episode. Henry's delivery of that line is as funny as it is unsettling: just one example of Atlanta's clever exposition of racial hard truths.
With season two – called Atlanta's Robbin' Season – airing now on FOX (season one is currently available on BBC 2), we catch up with Brian Tyree Henry to talk music, race, and the genius that is Donald Glover.
How would you describe Paper Boi's character?
"Well, Alfred 'Paperboi' Miles, man, he's all things at all times. He's a drug dealer, he's a rapper, he's a landlord, he's a chauffeur. He's like a caretaker who's all things. But the best thing about him is that he's got the biggest heart of anybody I've ever seen in my life."
"As the seasons go on, you start to see this relationship between him and his cousin blossom, but also meet a lot of challenges at the same time. Because when fame and money gets involved it changes the perspectives of people. And I think that what Alfred is doing the most is trying to hold onto that sense of self."
What can we expect of Paper Boi in season two? Does he hit the big time?
"Yeah, man. He's doing appearances, doing concerts. There's a potential for him to do a European tour. There's potential for him to make a lot of money. There's potential for him to actually not be in the streets anymore. But at the same time that does mean he's going to have to sacrifice a lot of who he is. That does mean that he's going to have to kind of change the way he dresses, the places he goes to, the people that he hangs with.
"That fucking sucks for him…because he's made it thus far being who he is but he knows that he wants more and he's going to play the game. And there's nothing worse than showing up for a game that you didn't ask to play because then you got to abide by those game's rules. I think that he's realising that and it's taking its toll on him."
You're a stage, film and TV actor as well as a singer. Does Paper Boi's musical journey bear any resemblance to your own?
"Yes and no. The things that I do as far as when it comes to the art of what I do, like singing and dancing, it was a way for me to survive. It was a place to hide. It was a place to go and explore these different lives of other people because I thought that my life was very stagnant. I'm was growing up in Fayetteville, North Carolina – not that it's a bad town to grow up in – but, you know, when you're in a place like that you don't really know that you have the aspirations to go to bigger cities and do bigger things. I was just able to hide within this form of entertainment and do the stories that I didn't necessarily think I'd ever read or hear about in my life.
"But then there's there's another great thing. When people see the potential of what you do and they want the best for you, you kind of owe it to them to go and do the best that you can because you are a representation of them. Shit, so I guess, yeah it does have similarities…."
Do you have a vision of how your life might have turned out without the performing arts?
"I don't even want to think about it because it is a big part of who I am, you know? There's something to be said about having that thing be a part of you, man. You can fight against it as much as you want to but in the end of the day it always rears its head. Like, when I discovered the stage, it was something that I didn't do for recognition. I didn't really give a shit if anyone saw what I did.
"But…it really did help my soul, it really did help me kind of like clear out the things in my head that said I wasn't worthy, like being a little black kid in the South – nothing said that I could ever make it to Broadway. I still went out there and I tried because I was like, 'Yeah, I would love to do a Tennessee Williams play, hell yeah I'd like do Edward Albee.' These plays don't necessarily have parts for me, but that didn't stop me from being like, 'Yeah, I can be Brick [Cat on a Hot Tin Roof] and I don't give a fuck.'"
Donald Glover has fingers in so many pies, what with Childish Gambino and his acting career. Does he get any sleep?!
"I don't think you can sleep when you have that kind of genius. When you have that kind of that fire in you, you have to sacrifice something. And I'm sure it's sleep. I'm sure it's space. I'm sure it's friendships. And I admire that in him.
"What I love about being a part of that is to continue to ignite the flame in him that will show the play. Because all we do is play with each other, like, when we're on set and we're telling these stories, there's a sense of play. And him and his brother [Stephen – a rapper and writer], are two of the most unbelievable minds I've ever seen.
"You know, it does take a lot of sacrifice. But it's completely worth it because [Donald] provides these things where you're like, 'Thank you! We didn't even know we needed that until we realised we needed that!' So it's like…I hope he's not narcoleptic at this point. I hope he's able to just continue to go out there and have that fire in him and that vision in him to keep bringing something fresh and new."
Did you know anything about 'This is America' before it was released?
"Nope! Hiro [Murai – director, 'This is America' music video] and me went to the Saturday Night Live show Donald was hosting. I did my show that night on Broadway [Lobby Hero] and then I went right around the corner to Donald's SNL. We hung out that night and then the next day I'm on my way to work and I go to Instagram and I see it and I'm like, 'What the fuck is this?!'
"Hiro is coming to the play that day and he's never seen me on stage before. He comes upstairs afterwards like, 'Man, I have never seen that before, that is unbelievable,' and I'm like, 'Man, you shut the hell up, when the hell did you guys do this?! We were just together last night!' But that's what I love about what all of us do. We continue to surprise each other and try to give each other opportunities to just be shocked at."
Atlanta has been praised for its dramatisation of race and representation in America. How does it feel to be a part of a show like that?
"Look man, if I was a 12-year-old kid riding down the road and I saw a billboard with three black men up there, I would have shat myself. It just wasn't something that was really presented or that that made us feel like that was something that was obtainable. And I'm really, really, really, really fortunate and really happy to be a part of something like that. I really love that we can kick down the doors. I love that we can bring our black asses into somebody's living room who lives in a landlocked state, who never even really shook hands with a black person or even knew what that person was. But they could still relate to it.
"There's a demographic of people that I just never even thought would roll up on me. I've had a 60-year-old great grandmothers wearing pearls around necks saying like, 'Paper Boi's our favorite character,' and I'm like, 'You gotta be shitting me!' because this really is just remarkable.
"At the end of the day the stories are what matter. And you know it really is about representation and it's really good that we are in a time where these stories can come about. [The stories] are relatable, they do exist in a space and we want to claim our space."
What music are you into? Do you share music with Donald?
"Hell yeah. What I love about us is that music is a good through line and, you know, whenever I'm in the hair and makeup trailer they're always allowing me to plug in my phone. Music is something that is just very precious to me. Donald introduces me to new music all the time. I think the last thing I introduced to Donald was Little Dragon and SZA and we just continue to bounce stuff off of each other."
What do you think of Kanye's new album, 'Ye'?
"I haven't heard it. I haven't had time. Anything Kanye-related, I think, is safe to say is off…."
Atlanta Robbin' Season continues Sundays at 10pm on FOX
[ad_2]