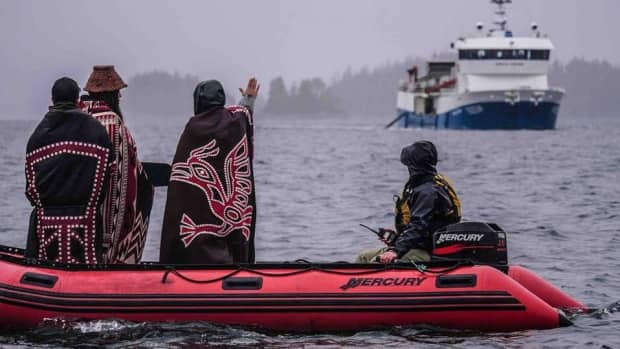 [ad_1]

B.C. First Nations leaders are reacting to reports that all West Coast fish farms will require First Nations approval starting in 2022.
"I believe the four-year time frame is four years too late," said Chief Bob Chamberlin, vice-president of the B.C. Union of Indian Chiefs.
"What I am pleased with is we now have a government that recognizes the value of wild salmon, not just to First Nations people but to the economy of British Columbia."
The news comes as the licences for 20 controversial fish farms in the Broughton Archipelago, off northern Vancouver Island, expire today.
The B.C. government is expected to renew those licences on a month-to-month basis until 2022, according to several media reports.
Fish farms dot the South Coast of B.C. Those marked in orange have tenures up for renewal on Wednesday. (CBC)
Chamberlin, a member of the Kwikwasut'inuxw Haxwa'mis First Nation on Gilford Island, says the move is a big step toward implementing the U.N. Declaration on the Rights of Indigenous Peoples.
"We are working very hard with this government because they have made this commitment to implement this declaration," he said.
More details coming today
Full details are expected to be announced by the provincial government later Wednesday, but reports are already saying the new regulations will apply to all fish farms on the West Coast.
The farms will also require federal confirmation that they don't endanger wild salmon. Atlantic salmon raised in net pens were banned from Alaska and Washington State waters because of the risk to wild salmon.
While some indigenous communities are calling for fish farms to be shut down, B.C. Salmon Farmers Association spokesman Shawn Hall says more than 75 per cent of the salmon they produce is already in partnership with local First Nations.
The B.C. Salmon Farmers Association says the province's aquaculture industry generates $1.5 billion a year. (B.C. Salmon Farmers Association)
"We do work with a number of small businesses — family-owned businesses — up and down the coast that are owned by First Nations individuals," said Hall. 
"About 20 per cent of the people who work for our industry are of First Nations heritage. So, for a lot of these small communities, salmon farming has become a major employer as other work has receded."
[ad_2]