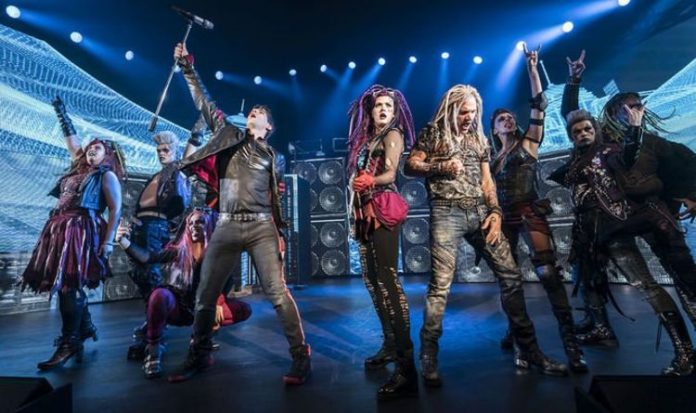 The Ben Elton musical based on the hits of Freddie Mercury's Queen ran at London's Dominion Theatre from 2002-2014. Now We Will Rock You is getting a 2021 UK tour after this year's dates were postponed due to the coronavirus pandemic. New and extra dates have been added for when the Queen musical kicks off in April.
Queen guitarist Brian May said: "We're confident WWRY fans will love revisiting the world's first true Rock Theatrical, and a whole new generation will now discover the VIBE!
"Happy to say our magnificent UK tour of We Will Rock You, the Rock Theatrical, will rise again!
"The Coronavirus has had us all on the run – but Live Theatre will win in the end!!! Keep hold of your bookings and The Vibe will be yours in 2021!"
Queen drummer Roger Taylor and We Will Rock You musical writer Ben Elton have also enthused about the tour.
READ MORE: Queen: Brian May performs Bohemian Rhapsody with We Will Rock You cast
Taylor said: "This is great news, I'm so pleased to see the show on the road again."
While Elton added: "I was so pleased to get the great news that We Will Rock You is to be remounted next year after being forced to close mid-tour and I hope Queen's incredible music can help to make us feel like Champions again.
"We Will Rock You has seen unprecedented success in theatres and arenas all around the world since it began in 2002 and this 2020 UK tour has been no exception. The show has received continuous rave reviews and standing ovations in every town and city it has visited and will be ready to pick up exactly where it left off."
Here is the updated list of 2021 UK tour dates for We Will Rock You:
26/04/2021 – 01/05/2021        Norwich: Theatre Royal
03/05/2021 – 08/05/2021        Reading: Hexagon
10/05/2021 – 15/05/2021        Liverpool: Empire
17/05/2021 – 29/05/2021        Birmingham: Hippodrome
31/05/2021 – 05/06/2021        Portsmouth: Kings Theatre
07/06/2021 – 12/06/2021        Bristol: Hippodrome
14/06/2021 – 19/06/2021        Aylesbury: Waterside
21/06/2021 – 26/06/2021        Wimbledon: New Theatre
28/06/2021 – 03/07/2021        Wolverhampton: Grand Theatre
05/07/2021 – 10/07/2021        Torquay: Princess Theatre
12/07/2021 – 17/07/2021        Stockton: Globe Theatre
19/07/2021 – 31/07/2021        Cardiff: Wales Millennium Centre
02/08/2021 – 07/08/2021        Bournemouth: Pavilion Theatre
09/08/2021 – 14/08/2021        Stoke: Regent Theatre
16/08/2021 – 21/08/2021        Milton Keynes: Milton Keynes Theatre
23/08/2021 – 28/08/2021        Newcastle: Theatre Royal
30/08/2021 – 04/09/2021        York: Grand Opera House
06/09/2021 – 11/09/2021        Ipswich: Regent Theatre
13/09/2021 – 18/09/2021        Northampton: Royal & Derngate
20/09/2021 – 25/09/2021        Bromley: Churchill Theatre
27/09/2021 – 02/10/2021        Peterborough: New Theatre
DON'T MISS
Queen's Brian May teases guitar solo for NEW Christmas song – WATCH [VIDEO]
Freddie Mercury 'didn't want to be old in a wheelchair on stage' [EXCLUSIVE]
Bohemian Rhapsody: Brian May on moment cut from Freddie Mercury movie [MOVIE]
We Will Rock You features 24 of Queen's biggest hits, while the musical's plot follows a group of Bohemians in a dystopian future where music is forbidden and everyone conforms in the way they think, act and dress.
Tickets for the Queen musical's 2021 UK tour are on sale now and can be purchased from here.
Meanwhile, Queen and Adam Lambert's 2020 UK and European tour has also been postponed from this summer to 2021.
Next year also marks the 50th anniversary of the full line-up of Queen when John Deacon joined the band as bassist. Speaking exclusively with Express.co.uk, we asked Brian May if the band had any plans to celebrate.
May shared: "It's funny because we've been looking at all this and Roger and I are going, 'Do we really want to celebrate being that old?'
He and Taylor, who are the only active members of Queen today, have been looking at all sort of designs and logos to mark 50 years of the band. But afterwards, the Queen guitar and drummer said to each other: "Actually I don't think we want to do that, we just want to get out and play."
So, for now, such on-display celebrations of the 50th anniversary have been shelved.
May said: "We want to celebrate being alive and being live. That would be the greatest thing to celebrate. I don't really care how long it's been to be honest. I'm just grateful that we're here."