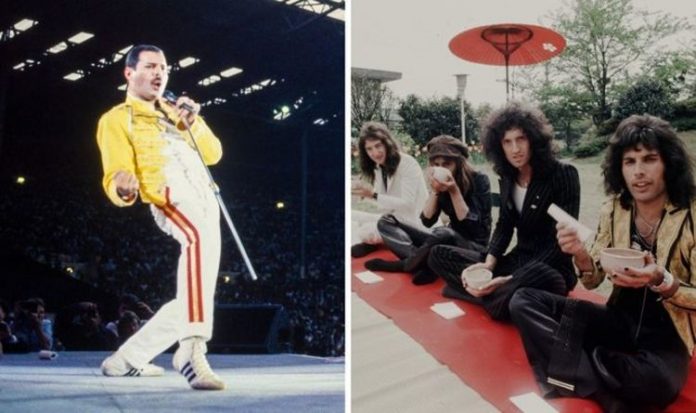 Freddie Mercury commanded the stage when he sang, leading his band Queen through some amazing performances. From Bohemian Rhapsody to Killer Queen, the band had so many hits which truly wowed the crowd. But how many of these songs did Freddie actually write?
Freddie Mercury wrote, when it comes to studio albums and bonus tracks, 70 songs for Queen.
This made him the main songwriter for Queen, however, the band's guitarist Brian May was also a close second.
Freddie's first songs for Queen were from their debut album, Queen, for which he wrote five songs.
He wrote Great King Rat, My Fairy King, Liar, Jesus and Seven Seas of Rhye.
READ MORE:  Josh Groban music: When did Josh Groban start singing? How old is he?
This album was not really their most successful, and some of these songs were included later on their second album, Queen II.
On this album, Freddie wrote Ogre Battle, The Fairy Feller's Master-Stroke, Nevermore, The March of the Black Queen, Funny How Love Is and Seven Seas of Rhye, which had already appeared on the previous album.
The following album was Sheer Heart Attack, where they got some more attention for Freddie's song Killer Queen.
As well as that, Freddie wrote Flick of the Wrist, Lily of the Valley, In the Lap of the Gods, Bring Back That Leroy Brown and In the Lap of the Gods… Revisited.
The whole band wrote Stone Cold Crazy, which was their first studio song which included every band member.
A Night at the Opera was the band's real arrival into the music world, where they became hugely successful.
Famously Freddie wrote Bohemian Rhapsody, but also wrote Death on Two Legs (Dedicated to…), Lazing on a Sunday Afternoon, Seaside Rendezvous and Love of My Life.
The latter was also well-loved by fans, and was written about his former girlfriend and close confidante, Mary Austin.
DON'T MISS
On A Day at the Races, Freddie wrote You Take My Breath Away, The Millionaire Waltz, Somebody to Love and Good Old-Fashioned Lover Boy.
On most of their albums, Freddie wrote the most songs, though after this the biggest hits were We Are the Champions, Jealousy, Don't Stop Me Now, Life Is Real (Song for Lennon) and Crazy Little Thing Called Love.
In his later years, however, Freddie often collaborated with the band, most often with John Deacon.
The whole band wrote Under Pressure with David Bowie, while he wrote Cool Cat, Pain is So Close to Pleasure, Friends Will Be Friends, The Miracle, Rain Must Fall and My Baby Does Me.
He also wrote Breakthru with Roger Taylor, as well as Innuendo, while he wrote Bijou and Is This the World We Created…? with Brian May.
Their final album, Made in Heaven, was released after Freddie's death, with most of the songs written collaboratively and pieced together.
However, while they worked together a great deal, Brian also wrote many songs, writing 64 songs for the band.
Roger wrote 33 songs while the fewest number of songs was written by John, who wrote 26.
Some of the most famous songs, such as You're My Best Friend, Another One Bites the Dust, We Will Rock You, Radio Gaga, Fat Bottomed Girls, A Kind of Magic and Who Wants to Live Forever were written by other members of the band.