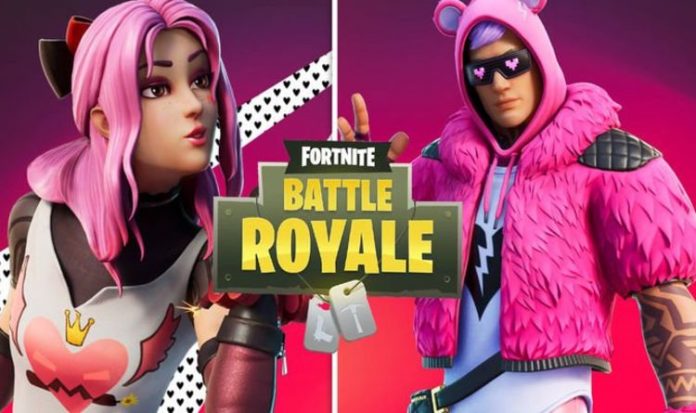 Fortnite developer Epic Games has launched its week-long Valentine's event.
Titled Hearts Wild, the Valentine's celebration runs all the way until February 15.
As part of the event, fans can unlock new skins, complete challenges, and even take part in a new tournament.
"There's a lot in the cards for Valentine's this year," reads an Epic post.
"Fortnite's Hearts Wild event kicks off today, February 8, 2021, so let your heart run free with the many happenings going on this week: a tournament, Creator Challenges, the return of papercraft, lovely new Outfits in the Item Shop, and more!"
The headline event is the Hearts Wild tournament, which gives fans the opportunity to unlock the brand new Lovely outfit early.
The Duos tournament takes place for three hours on February 9. Couples can earn points by playing upwards of ten matches.
"Whether you're a couple or just any dynamic duo, assemble your Duos team for the Hearts Wild Cup on February 9, 2021.
"You and your Duos partner will have 3 hours to complete up to 10 matches to earn points. The top-performing Duos in each server region will earn the Lovely Outfit and Heartblast Back Bling."
As Epic Games points out, players will need to be level 30 or above, and have two-factor authentication enabled.
"To enable 2FA, players must visit our 2FA page, log into their Epic account, and follow the onscreen instructions."
The celebration continues with Hearts Wild Team Battles between February 10 and February 17.
"Fortnite players will have an opportunity to team up with their favourite Creators to help them earn points in unique Challenges," Epic continues.
"By placing highly enough, participants competing against other teams within their regional group can win in-game rewards."
Rewards include the Breathless Blades Pickaxe, Shufflly Shapes Wrap, Reel Love Spray, Perfect Match Emoticon, and Hearts Wild Team Battles Banner.
February 11 sees the introduction of brand new Valentine's challenges, complete with special rewards.
The challenges task players with finding a Valentine for Fishstick.
"With so many fish in the sea, surely Fishstick is capable of finding a Valentine.
"This week's Quests, which go live February 11, 2021, at 9 AM ET, involve helping Fishstick get a date. Do your fish friend this favour and earn some XP in the process!
"These Quests will also have you help Big Chuggus and Lovely spread the spirit of love on the Island."
Finally, a selection of brand new and returning outfits will be available from the item shop throughout the week.