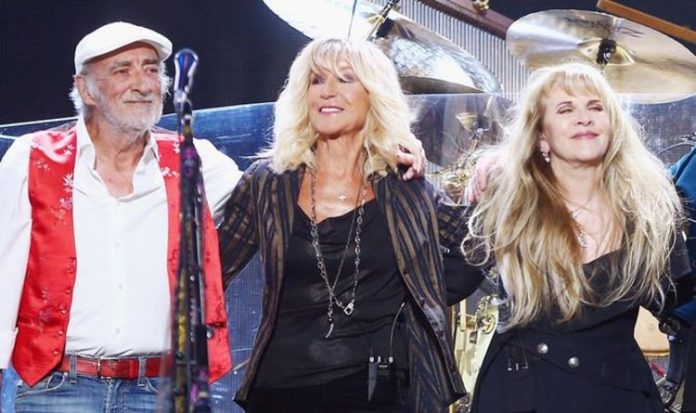 Three years ago, Lindsay Buckingham was fired from Fleetwood Mac. And while Mike Campbell and Neil Finn joined the band, Christine McVie now doubts Stevie Nicks and John McVie would tour again with the band. In a recent interview, the 77-year-old said future live concerts were "an impossible question to even answer".
Christine said: "If we do, it will be without John [McVie] and without Stevie, I think.
"I think I'm getting a bit too old for it now, especially having had a year off. I don't know if I can get myself back into it again."
Nevertheless, the singer and keyboardist was sure that the band's namesake would want to.
After all, Mick Fleetwood is the longest-serving member of the band that was formed in 1967.
READ MORE: Fleetwood Mac: Stevie Nicks on idea of Lindsey Buckingham rejoining
But when asked by The Guardian if she would never appear on stage with Lindsey ever again, Stevie was pretty final in her answer. 
The 72-year-old said "probably never" and when asked if she really meant that, the Fleetwood Mac member replied firmly, "Uh-uh."
She pointed out how people always ask the band if they get along as friends and they'd say "Not really".
While when asked if they see each other when they're not touring, they'd reply, "Er, no." The singer added: "It has been like that since 1976."
Meanwhile, an unproduced script for a Fleetwood Mac biopic named Rumours made the Top 10 of the Hollywood Black List in 2019.
Penned by Tyler Austin and Patrick Eme, a description reads: "In 1970s LA, Stevie Nicks and Lindsey Buckingham, two struggling musicians and lovers, join a band called Fleetwood Mac and are thrown into a whirlwind of worldwide fame, infamous drug addiction, and one of the best-selling albums of all time—which also happens to be about the disintegration of their relationship."
In 2019, Mick told TV1's Sunday how Fleetwood Mac's story would make a great movie, but admitted that there currently wasn't one in production.
With the recent success of Bohemian Rhapsody and Rocketman, plus with the Elvis biopic on the way, surely it's only a matter of time.