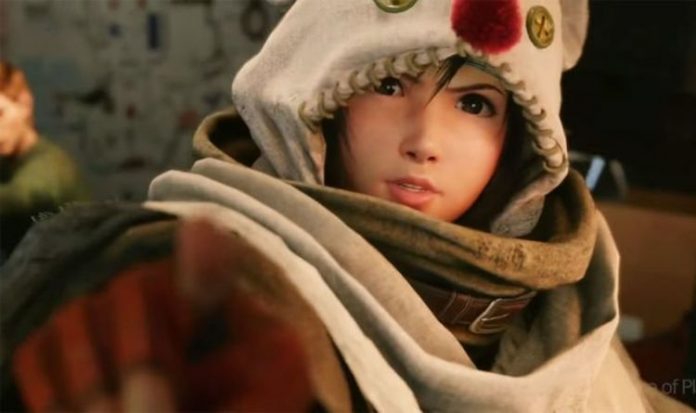 UPDATE: The PS5 version of Final Fantasy 7 Remake was finally confirmed at this week's State of Play. 
Known as Final Fantasy 7 Remake Intergrade, the PS5 version of FF7R brings with it two new graphics modes (one for 4K visuals and the other for 60FPS), a new Photo Mode and – best of all – a brand new chapter starring beloved FF7 character Yuffie.
If you already have Final Fantasy 7 Remake on the PS4 then you'll be able to upgrade to the PS5 version for free and also transfer over your saved data. However, the Yuffie chapter will have to be bought separately.
Final Fantasy 7 Remake Intergrade for the PS5 will be out on June 10. Yuffie's Cacstar weapon is also available as a bonus for digital pre-orders.
ORIGINAL: Final Fantasy fans could have a big reason to tune into today's State of Play broadcast, with rumours circulating that the next-gen version of FF7R – known as Final Fantasy 7: Ever Crisis – will be getting announced at the upcoming Sony event.
The PS5 version of Final Fantasy 7 Remake has been talked about for some time now, with reliable leaker Navtra previously hinting an announcement was on the horizon.
Navtra said the reveal of Final Fantasy 7 Remake PS5 should come not long after the next Final Fantasy 14 expansion was announced.
That FF14 update – known as Endwalker – was revealed at the start of the month.
And since then fans of Square Enix's iconic JRPG series have been keeping their fingers crossed that the PS5 version of FF7R could get unveiled as well.
It had been hoped the Final Fantasy 7 Remake PS5 version would get announced at a recent FF7R digital concert for Japanese audiences.
However, that event came and went without any word on an enhanced version of FF7R.
Around then Navtra spoke about the Final Fantasy 7 Remake PS5 version. The leaker said: "Here's what I last heard, though: It's releasing for PS5/PC (No Xbox) and it's a bit more substantial than a resolution increase. There's new story content."
The ResetEra leaker added: "The thing is, the port was supposed to be announced in the Future of Gaming event alongside Athia, XVI & Avenger's Spider-Man. Those announcements were spread out in the past few months and only this port remains.
"8 months have passed though and there's the possibility my information might be outdated by now, that's why I chose not to talk much about the content of the port and just confirm its existence. I guess there's also the possibility it might've been canceled but I highly doubt that's the case."
And now the reveal of the heavily anticipated upgraded version of FF7R could be happening soon.
According to a 4chan leak, which was rounded up in a post on Reddit, the PS5 version of Final Fantasy 7 Remake could be getting announced at State of Play.
Seeing as it's 4chan, it is best to take these latest claims with a huge grain of salt.
But posts of 4chan have been right in the past, most notably when a 4chan leaker correctly revealed the existence of Pokemon Let's Go Pikachu and Eevee.
It's been claimed Final Fantasy 7 Ever Crisis is coming to PS4 and PS5.
For PS5 it will have two graphics modes – one that focuses on 4K gaming at 60FPS, the other which has ray tracing graphics at 30FPS.
The alleged leak also claims this new version of FF7R will have two new chapters, a new boss battle, DualSense support, a Photo Mode, new trophies and more.
An alleged leaked press release announcing the game said: "FINAL FANTASY VII: EVER CRISIS will launch globally on April 10, 2021 for PlayStation 4 and PlayStation 5 and can be purchased for $59.99/€69.99/£59.99. Pre-order now to receive the exclusive in-game weapon "Butterfly Edge" for Cloud Strife."
Separately, it has also been claimed that one of the PS Plus games for March will be the original Final Fantasy 7 Remake.
That could give more weight to the claims the enhanced version of FF7R will get revealed during the next State of Play.
Having FF7R as a free PS Plus game could entice people to pick up the enhanced version, which is rumoured to be launching in a few months time.
We'll have to wait and see whether this rumour turns out to be true. But thankfully we don't have too long to wait.
The February 2021 State of Play is airing today at 10pm GMT, and is being streamed on YouTube and Twitch.