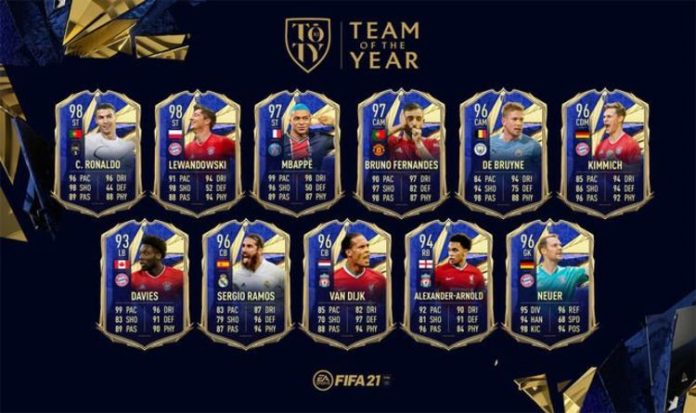 FIFA 21 TOTY squad is out now in Ultimate Team packs, with the full Team of the Year squad available for FUT fans to get hold of. After the launch of the FIFA 21 TOTY promo last week the full Team of the Year squad is now available in FUT 21 packs. The news was announced by the @EASportsFIFA Twitter today who said: "Squad goals. Your full Team of the Year XI, now available in #FUT. #TOTY #FIFA21".
Like last year, the FIFA 21 TOTY squad was voted for by fans with millions of votes coming in this year to select the latest Team of the Year line-up.
And there's a strong Premier League contingent with four of the 11 players in the FIFA 21 TOTY squad from the EPL.
The FIFA 21 TOTY squad was whittled down from a selection of 70 nominees, with over 10million votes cast to decide on the final line-up.
Speaking previously about the Team of the Week promotion EA said: "70 of the best players from the past 12 months were nominated for the FIFA 21 Team of the Year, with over 10 million votes helping to decide who made the final XI – the definitive list of the world's best.
"Special TOTY player items featuring some of the highest ratings of the season will be released in FUT 21 for a limited time from January 22 to celebrate each player's incredible performances over the course of a year like no other."
The FIFA 21 Team of the Year squad shares a lot of similarities with the FIFPro Men's World XI.
But there's one big difference, with both Cristiano Ronaldo and Lionel Messi featuring in the FIFPro dream team.
Whereas in the FIFA 21 Team of the Year squad only Ronaldo makes the cut out of this dynamic duo, with Messi missing out.
This is a reversal of last year when Messi was included in the FIFA 20 Team of the Year with Ronaldo left out.
In case you're wondering, here is the full details for the FIFA 21 Team of the Year squad – including info on player ratings and positions…
FIFA 21 TEAM OF THE YEAR
Cristiano Ronaldo – Juventus – ST – OVR 98
Robert Lewandowski – Bayern Munich – ST – OVR 98
Kylian Mbappe – PSG – ST – OVR 97
Bruno Ferandes – Manchester United – CAM – OVR 97
Kevin De Bruyne – Manchester City – CAM – OVR 96
Joshua Kimmich – Bayern Munich – CDM – OVR 96
Alphonso Davies – Bayern Munich – LB – OVR 93
Sergio Ramos – Real Madrid – CB – OVR 96
Virgil van Dijk – Liverpool – CB – OVR 96
Trent Alexander-Arnold – Liverpool – RB – OVR 94
Manuel Neuer – Bayern Munich – GK – OVR 96