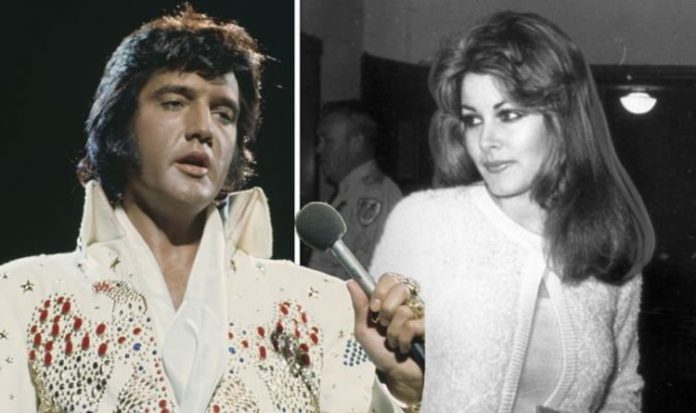 Elvis Presley tragically died on August 16, 1977 at his home in Graceland, Memphis, Tennessee. The singer was 42 years old, and was, at the time, struggling with some addiction tendencies, including alcohol, and some drugs. His fiancée at the time, Ginger Alden, found him dead in the bathroom after he told her he couldn't sleep.
Elvis' death was a pure tragedy, leaving not only his new fiancée widowed, but also his daughter, Lisa Marie Presley, without a father.
The King of Rock and Roll was surely going to be missed terribly by his friends, family, and endless amount of fans.
Despite this, the singer infamously had a very short temper, which many of his close associates had experienced.
On one occasion, Ginger explained that he once became so angry he fired a machine gun at a toilet.
READ MORE: Elvis Presley: The moment Colonel Parker negotiated 50 per cent according to King's cousin
Speaking in 2014, Ginger spoke about how his drug use and "bloating" caused him great anger.
She then explained how she "didn't fear" Elvis, despite his fluctuating moods.
Ginger did say, however, that she believed his "love of guns, and his mood swings, were a dangerous combination".
On this, she said: "We were reading together and the toilet was making a noise."
WATCH THE VIDEO BELOW
Another instance of Elvis with guns saw him accidentally leaving one of his weapons in the bathroom while hanging out with Tom Jones.
On the occasion, Jones said: "I wrapped [the gun] up in this towel, took it out and said, very quietly: 'Er, Elvis, you left your gun in the toilet.'
"And Elvis just goes: 'Aw s**t man, ma .45', and stuck it in his belt.
"I was trying to be very discreet about the whole thing, but he couldn't have cared less."
One of Elvis' ex-girlfriends, Linda Thompson, once spoke out about some other oddities concerning the star.
Speaking out about one of his strangest fixtures – webbed toes – Linda said: "He had twin toes, which meant that his second toe from the big toe and the third toe were conjoined up to what would be the knuckle.
"And I used to tease him a lot about having webbed toes!
"So he had twin toes. That's something most people don't know."