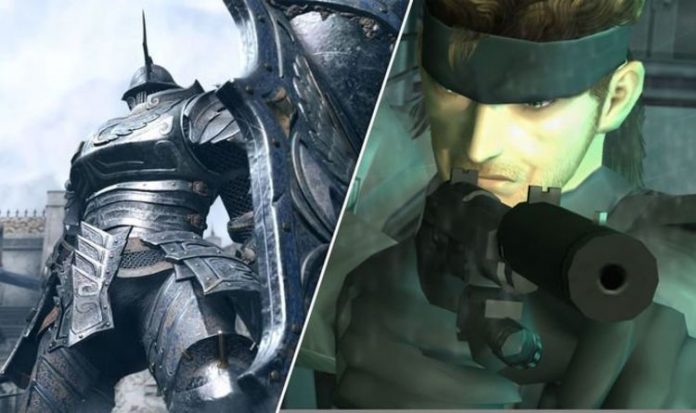 Demon's Souls is out now, with the latest offering from remaster specialists Bluepoint Games launching as a day one PS5 title that truly showcases the next-generation console's power. While gamers in the UK will only be beginning their adventure in Boletaria tomorrow (Thursday November 19), Souls fans in regions such as the US and Japan have had plenty of time to get to grips with the remake of the PS3 cult classic as it debuted alongside the PlayStation 5 in their neck of the woods last week. And one gamer who has been playing through Demon's Souls has spotted something curious which could be a big hint about the rumoured Metal Gear Solid remake.
Earlier this year a jaw-dropping rumour emerged that Sony had struck a deal with Konami to make entries in three of the developer's most famed franchises – Metal Gear Solid, Silent Hill and Castlevania.
The next Silent Hill game will allegedly bring series creator Keiichiro Toyama back on board, while the new Castlevania will reportedly be a Bloodborne-style RPG.
While both the original Metal Gear Solid and Metal Gear Solid 2 could be getting full-blown remakes, with a MGS series collection also allegedly in the works.
Oh, and of course – since Sony has allegedly brokered this deal with Konami it would mean this iconic gaming franchises would be exclusive to the PS5.
It may all sound too good to be true – and as with all rumours it's best to take it with a pinch of salt until official confirmation. But Sony reportedly has big plans in the work for the PS5 which they are yet to reveal so you never know.
And as Metal Gear Solid fans keep their fingers crossed and wait for confirmation something very interesting has been spotted in Demon's Souls.
The makers of the FromSoftware remake – Bluepoint Games – are rumoured to be heading up the Metal Gear Solid remake.
And gamers on Reddit have flagged up something interesting in Bluepoint's latest offering, which could hint at what the future holds.
The easter egg popped up while one PS5 gamer was exploring the Nexus location, with a surprise noise suddenly blaring out that took them off guard.
It's unclear what exactly this sound is, but gamers have speculated that this audio has been taken from Metal Gear Solid.
Redditors have claimed that this noise is the same sound that blares out during the Liquid Snake Metal Gear Rex boss battle in the original MGS1.
And if that is indeed true then it could be a subtle hint from Bluepoint Games about what they have lined up next.
The OG poster wrote: "Everyone is speculating what is behind the door in Demon's Souls, but the mysterious sound from the Nexus is EXACTLY the same as the liquid boss fight in Metal Gear Solid."
To which one Redditor posted: "People have been clamoring for an MGS remake for even longer than Demons Souls, so it would make sense that Sony is having it remade. Seems more of an inevitability really".
While another added: "Well they did say one of the reasons they chose to remake Demon's souls was because it was their most requested. I imagine Metal Gear Solid is next in line".
And one wrote: "There might actually be something to this rumor!"
If you want to hear the mysterious Demon's Souls sound that has got plenty of people talking, then click here to head to the Twitter post that has sparked these rumours. But be warned, the video features strong language (i.e. swearing) so it isn't suitable for kiddies or any young gamers – adults only.
Last year Bluepoint Games got tongues wagging on Halloween when they sent out a cryptic tweet that appeared to tease unnanounced games in the pipelines.
The tweet said: "So calm this spooky night. A symphony of rumors – not one, but two – return from shadow.
"A resistance to dart home as black monsters escape twisted hills to wander lands and syphon souls.
"Filter your candy collections, soft from solid, and be eco-friendly. Have a metal Halloween."
Gamers analysed the tweet trying to figure out what it means, with the general consensus being it could have hinted at a range of unannounced remakes such as Castlevania Symphony of the Night, Metal Gear Solid, Syphon Filter or Twisted Metal.
And Bluepoint Games has just this week only added further to the rumour mill by tweeting once again: "A symphony of rumors…"