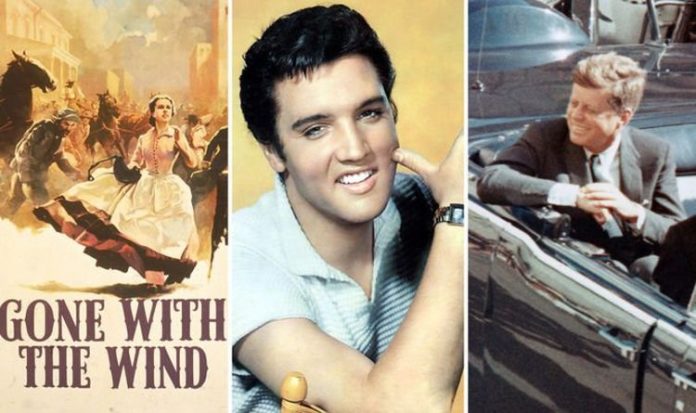 Elvis Presley is well known for loving his TV, having 14 television sets inside his Graceland mansion and three on-board his private jet the Lisa Marie. But did you know The King was also an avid reader? Now Graceland archives have shared some of the volumes in his book collection across his various interests.
During last month's virtual live tour of Graceland, which Express.co.uk attended, one fan asked about Elvis' favourite books.
The question came up aboard the Lisa Marie jet aka House Dog 1, when archivist Angie Marchese was showing us Elvis' on-board bedroom, which included his special chair devoted to reading.
She said: "That was Elvis' reading chair, Elvis was an avid reader on all types of subjects.
"He did have a box of books that travelled with him everywhere."
READ MORE: Elvis Presley: Upstairs at Graceland described by archivist allowed in
In a 2018 interview with Lorraine, Lisa Marie said how Elvis had piles of spiritual books kept in his bedroom and office.
Both rooms are upstairs at Graceland which is totally off-limits to the public out of respect for what was The King's private space in life.
Lisa Marie said: "He always had books stacked up high next to his bed and they were all religious. If you go up to his bedroom, there's a little office connected.
"And there's just nothing but books of every religion…a million bibles. He was constantly searching and he was very connected to gospel."
Describing Graceland's upstairs, which she has a key for, Lisa Marie said: "[It's] exactly the same. Oh, it's showy! It's got a long shag carpet, black bed, red walls. Gold everything here and there."
It's the 53-year-old's request that Graceland's upstairs be preserved just as her father left it, right down to the smallest details.
According to Angie, it's like Elvis just got up and left. His bed is made, there's a styrofoam cup on a bookshelf and even the last record he played is on the record player.
The vinyl is a fresh copy of JD Sumner and the Stamps, who Elvis was friends with. The singers even sang at The King's funeral two days after he presumably played the track.