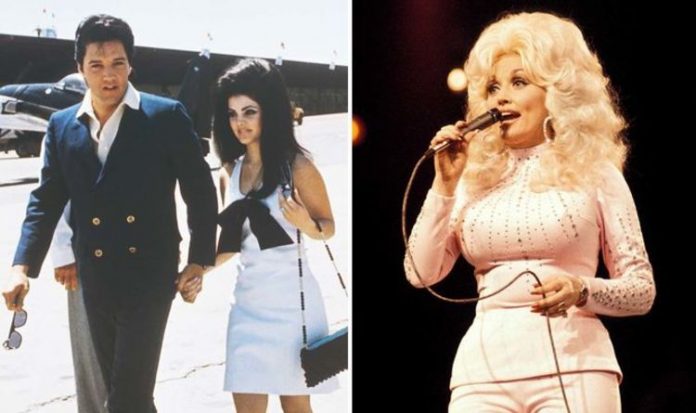 Elvis Presley married just once to Priscilla Presley from 1967 to 1973, the mother of his only child Lisa Marie. After splitting in 1972, the couple actually ended up having quite the amicable divorce which was finalised a year later. In fact, The King even sang a hit Dolly Parton love song to Priscilla as they left their divorce courtroom.
Dolly Parton recently shared that Priscilla once told her the story and the song Elvis sang to his soon to be ex-wife was I Will Always Love You.
The lyrics seem quite fitting of their situation of a couple breaking up with a commitment to continuing loving each other.
They open: "If I should stay/I would only be in your way/And so I'll go, but I know/I'll think of you each step of the way.
"And I will always love you/I will always love you."
READ MORE: Elvis Presley: Dolly Parton on turning down The King's request
Dolly added: "So I was so excited, I told everybody. They had called me that Elvis was recording it, and if I wanted to come to the studio. Elvis wanted to meet me and all that."
That evening, before the session, Colonel Tom Parker called her up. Elvis' manager said to Dolly: "You know, we don't record anything with Elvis unless we have the publishing, or at least half the publishing."
She replied: "Well, that throws a new light on this because I can't give you half the publishing. I'm gonna leave that to my family. I can't do that."
So The Colonel told her that Elvis couldn't cover the track as those were the terms.
Dolly admitted: "I cried all night. Oh, I just pictured Elvis, like, singing it. And I know that Elvis loved it. And I know it wasn't him, but it's true. I said no."
The 74-year-old also shared that she would choose Elvis to be her "last conversation" so she could clear up their apparent dispute
She added: "I'd probably talk about I Will Always Love You and say 'Hey, I bet you were as disappointed as I was about all that and I still dream about you singing that song.
"Matter of fact, I even wrote a song called I Dreamed About Elvis Last Night and I had an Elvis soundalike sing it with me and we actually sing 'I Will Always Love You' in it."