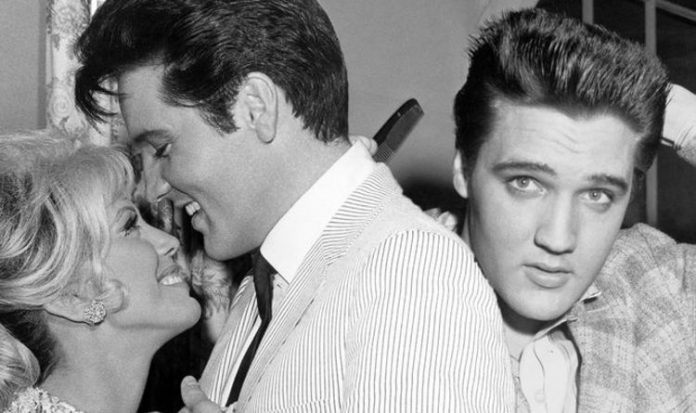 Elvis Presley's love life was a topic of great speculation throughout his career. Before he married Priscilla Presley, he was seen with various women, some of whom claimed to have had relationships with him. But did he and the daughter of Frank Sinatra, Nancy, ever date?
Elvis Presley and Nancy Sinatra, according to Nancy, never dated, however their relationship was one where flirting was definitely involved.
Nancy met The King after her father arranged it, and she met him off the plane at Fort Dix in 1960, after he had finished his military service.
Her famous father, Frank Sinatra, meant she was not starstruck by the man in the way many may have been, and in years later a friendship grew, before they starred opposite one another in the 1968 movie Speedway.
Speaking of their meeting, Nancy said: "Elvis was lovely. What a great guy. What a sweet, polite, wonderful man…
READ MORE:  1960s lyrics quiz: Can you complete the lyrics and name these songs?
"He treated me as a good friend."
Speaking on her website, Nancy delved into the nature of their friendship a little further, saying it was always 'platonic'.
She added: "His humour was silly and self-deprecating. He made fun of himself which is a very endearing quality to have. We did have fun, that's for sure…
"There was flirting, but just friendly flirting. Actually, we were like The Katzenjammer Kids."
She said they spent a great deal of time together on the Speedway set, before which Elvis would have been recently married to his wife, Priscilla.
Nancy continued: "We used to ride a bicycle built for two around the studio, the MGM lot.
"Speedway was Elvis at his peak, in his prime. He was beautiful.
"This movie and his 'comeback' special were his zenith. I mean, how gorgeous was he then? Wow!"
DON'T MISS
Despite their friendship blossoming while he was married, Nancy explained to The Guardian how, when his daughter Lisa Marie was born, he shared his joy with her.
She said: "He said he felt so grateful that she was born into a loving, secure life.
"He mentioned how he felt pain for the babies born that same night in poverty. I knew what he meant."
For Nancy, she and he had a kinship thanks to the success of her father, as she understood how legendary singers also have their frailties.
On her blog, she added: "I feel kind of sorry for those who don't get Elvis.
"A little more open-minded study and they would discover a fabulous soul who contributed plenty to the history of American music.
"He was the best at what he did and, like Frank, there will never be another to equal him.
"I treasure him. You will never know how much I miss him."
Despite not getting into a relationship with Elvis, Nancy did marry twice, though she has said she would have remained unmarried if sex outside of marriage had been accepted in her times.
She said of her first marriage, to popstar Tommy Sands in 1960: "I was old-fashioned. I married as a virgin. We were both way too young. You find that out, don't you?"
"I made the stumbling block. Had I had a sexual life prior, I would not have married. In those days you got married to have sex, sadly."
She and Tommy divorced in 1965, after which she married her second husband, Hugh Lambert, in 1970 and remained with him until his death in 1985.
She and Hugh had two children: Angela or 'AJ' and Amanda.