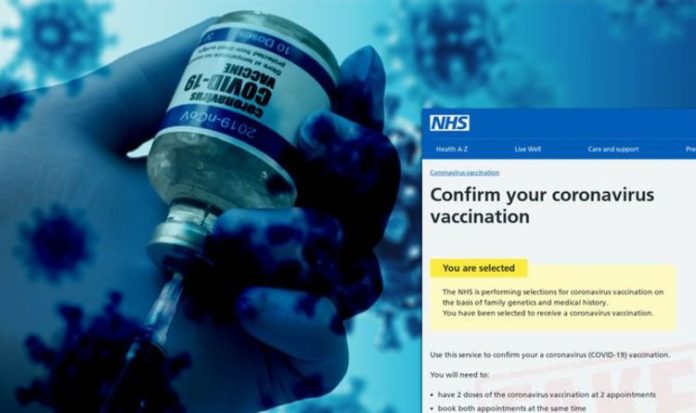 Seven million people in the UK have already received their first dose of the coronavirus vaccine, with the NHS rolling out the Covid-19 jab in stages – starting with society's most vulnerable first. When it is your turn to receive the Covid vaccine you will be notified, with the vaccine free of charge.
However, as millions across the UK wait their turn for the jab, unscrupulous scammers have been trying to callously twist this situation to their advantage. Action Fraud has highlighted Covid vaccine scams in the UK, with the national cybercrime reporting centre receiving a high volume of reported scam texts and messages.
And the latest Covid vaccine scam could be the most convincing one yet.
In a recent tweet Action Fraud highlighted examples of fake coronavirus vaccination e-mails that they have seen. And the messages are very convincing, featuring fonts and graphical styles seen on the real NHS website to make the correspondents seem more official.
Previous Covid vaccine scams that Action Fraud have highlighted have been used to try and trick people into paying for a jab.
READ MORE: Coronavirus symptoms: Long Covid symptoms
If you receive an e-mail, text or call asking for any financial payment just know the Covid-19 vaccine is being offered by the NHS for free.
Highlighting these latest scam messages the Action Fraud Twitter posted: "Here are just a few examples of the fake coronavirus vaccination emails we are seeing. If you receive an email, text message or phone call purporting to be from the @NHSuk and you are asked to provide financial details, or pay for the vaccine, this is a scam #coronavirusfrauds".
Just earlier this week Action Fraud said in a 24 hour period they received reports of 1,166 Covid vaccine scams.
Speaking about the current wave of scams, Head of Action Fraud Pauline Smith said: "It's despicable that fraudsters will take advantage of such an important tool in the fight against this evil and deadly disease. Not only are the people being targeted with this email at risk of losing money, or having their identity stolen, but they are also at risk of not receiving the real vaccine.
"The public have been fantastic at reporting these scams to us and raising awareness in their local community as well. But unfortunately, as this latest phishing campaign shows, we still have to remain cautious and alert. Remember: anything purporting to be from the NHS asking you to pay for the vaccine, or provide your bank account or card details, is a scam."
Action Fraud has rounded up some important pointers to bear in mind and help you spot a Covid-19 vaccine scam.
The main takeaways are the NHS will never:
• Ask you for your bank account or card details.
• Ask you for your PIN or banking password.
• Arrive unannounced at your home to administer the vaccine.
• Ask you to prove your identity by sending copies of personal documents such as your passport, driving licence, bills or pay slips.