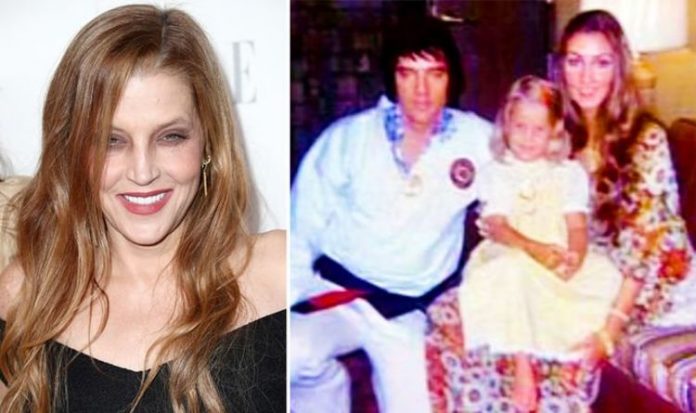 Yesterday marked Lisa Marie Presley's 53rd birthday and now Elvis Presley's ex-girlfriend Linda Thompson has paid tribute to her with some touching photographs. The former Miss Tennessee dated The King from 1972 to 1976, living at Graceland with him and Lisa Marie when she was staying with her father. Now 70-years-old, Linda wrote on her Instagram account: "I am wishing everything wonderful for you @lisampresley on the occasion of your birthday today…and every single day of your life!"
Linda continued: "You are such a big and beautiful part of my memories with your beloved daddy.
"And I hope you know my heart is always with you and I am always here for you. I have always loved you and I always will…Happy birthday!"
Linda shared a video of herself, Elvis and Lisa leaving a store in 1974 Tennessee alongside Memphis Mafia member Jo Smith, the wife of The King's cousin Billy.
While the next snap, among several, saw Lisa Marie sitting on Linda's lap with Elvis in his karate gear posing alongside them.
READ MORE: Queen guitarist Brian May performs Wellerman sea shanty – WATCH
Linda wrote at the time: "Elvis week continues…Looking back… I have learned to trust life and let it unfold as it is meant to.
"I have so far lived a crazy, rarified, and extraordinary existence… Not without heartache and disappointment, but I have learned from every experience, & I always look forward with optimism to another memory-making day.
"It's hard to imagine that Elvis has now been deceased longer than he actually lived, yet the music & memories play on…"
While on August 16 itself, the day he died in 1977, she wrote: "He was the king of cool as well as the king of rock 'n' roll."
Linda continued: "He had an enormous heart, an unbridled generosity, an innovative talent, a loving, affectionate nature, and a profound sensitivity. He was an original.
"He was complex in his simplicity, and he was very human. The world lost an icon 43 years ago today, but Elvis still lives in the hearts of millions of fans around the world. Many travel to Memphis every year on the occasion of his passing, & remember him with a candlelight vigil.
"To see you smile… if only for awhile… to know you're there…a breath away's not far – TO WHERE YOU ARE."
Linda and Elvis broke up in late 1976 because she wanted a more normal life, but the two remained friends until he died less than a year later.