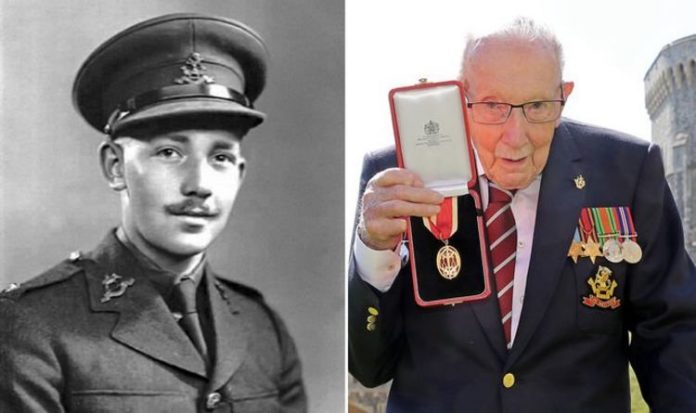 Captain Sir Tom Moore died today aged 100-years-old after being treated for pneumonia and then coronavirus in hospital. The national treasure was not only a World War II hero but last year raised over £33 million for NHS Charities Together who are helping fight the pandemic. Last September, it was announced that Captain Tom's century of life will be adapted for a movie biopic.
Fred Films and Powder Keg Pictures won a bidding war for the life rights to Captain Tom.
Commenting on the announcement at the time, the war hero said: "I don't know of any 100-year-old actors, but I'm sure Michael Caine or Anthony Hopkins could do a wonderful job if they were prepared to age up!"
Nick Moorcroft and Meg Leonard, who are producing the Captain Tom movie, are also writing the screenplay.
In a statement, they said: "This is a story about the power of the human spirit and Captain Sir Tom personifies that."
READ MORE: The Dig: How accurate is The Dig on Netflix on the Sutton Hoo find
According to Variety, Moorcroft and Leonard continued: "We are honoured to be telling this unique and inspiring story and are excited about audiences getting to know the man behind the headlines."
While fellow producer James Spring said: "At a time of fear and uncertainty, 161 countries around the world embraced the beacon of hope that Captain Sir Tom provided.
"We are privileged that Tom and his family have entrusted us to tell their story."
While Captain Tom suggested that Hopkins or Caine play him, Coral bookmakers have Doctor Strange star Benedict Cumberbatch on 2-1 to play a younger version of the army officer.
Last year, Captain Tom originally intended to raise £1000 by walking 100 laps of his garden before his 100th birthday.
But during lockdown, his tenacity caught the hearts of the nation as he became a symbol of the Blitz spirit amid the pandemic.
After raising tens of millions for charity, Captain Tom was knighted by Her Majesty The Queen at Windsor Castle in a private ceremony.
Following the news of his death today, The Royal Family said in statement: "The Queen is sending a private message of condolence to the family of Captain Sir Tom Moore."
The Royal account added: "Her Majesty very much enjoyed meeting Captain Sir Tom and his family at Windsor last year. Her thoughts and those of the Royal Family are with them."
Captain Tom also becoming the oldest person to record a UK No 1 single with You'll Never Walk Alone.
During World War II he served in India and the Burma campaign and later became an instructor in armoured warfare.
While after the war, he became managing director of a concrete company, while also being an avid motorbike racer.