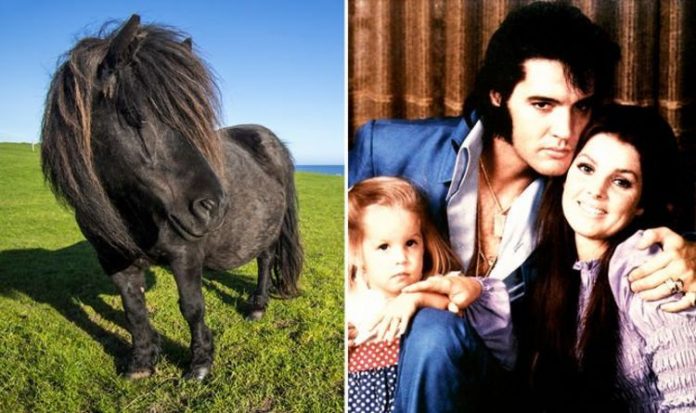 Elvis Presley got up to all sorts of mischief at home at Graceland. The King employed family members as the Memphis Mafia and nobody could tell him what to do. One time he bought his daughter Lisa Marie a pony called Fluffy and according to Elvis' cousin he brought the animal inside for fun.
Elvis' cousin Billy Smith appeared on his son Danny's Memphis Mafia Kid YouTube channel in a new video answering a fan question of how picky Elvis was on keeping Graceland clean.
While they once had to wear white gloves and shoes to ride in his brand new Rolls Royce, it turns out The King wasn't particularly strict on cleanliness.
Danny remembered the kids of Elvis' inner circle could eat just about anywhere inside and outside on the Graceland estate, with staff clearing up after them.
In fact, Billy and his wife Jo remember being able to wear shoes inside Elvis' bedroom upstairs at Graceland, which remains off-limits to the public to this day.
READ MORE: Elvis Presley: Lisa Marie on still having Thanksgiving at Graceland
Elvis famously kept all kinds of critters at Graceland, with the Jungle Room being decorated by a statue of St Francis of Assisi, the patron saint of animals.
The King had dogs, horses, fish, cats, chickens, birds, peacocks and even a turkey called Bowtie.
But Elvis also had some donkeys and during the move into Graceland back in 1957, the stalls and fences in the back of the property hadn't been built yet.
However, the Graceland pool had been dug, so The King's donkeys were lowered into the empty space for the time being.
In another video, Billy said: "They put them in the pool and kept them in there for a while!"
He also clarified that it was not a guitar-shaped pool, but what was called a kidney-shaped pool.
Meanwhile, a movie biopic about Elvis is set for release later this year starring Austin Butler as The King and Tom Hanks as his manager Colonel Tom Parker.
The Warner Bros biopic from director Baz Luhrmann will chronicle the star's two-decade career.
According to the official synopsis, Elvis is "seen through the prism of [Presley's] complicated relationship with his enigmatic manager, Colonel Tom Parker.
"The film delves into the complex dynamic between Presley and Parker spanning over 20 years, from Presley's rise to fame to his unprecedented stardom, against the backdrop of the evolving cultural landscape and loss of innocence in America.
"Central to that journey is one of the most significant and influential people in Elvis's life, Priscilla Presley."
Elvis is released in cinemas on November 5, 2021.