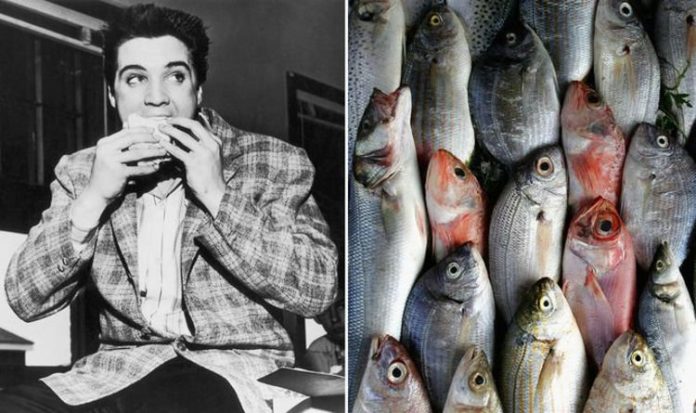 Elvis Presley lived at Graceland in Memphis, Tennessee from 1957-1977 and being a wealthy rock star could have exactly what he wanted. During a virtual live tour of the mansion last month that Express.co.uk attended, one fan asked about The King's favourite foods. Graceland archivist Angie Marchese, who was leading the tour, said how much Elvis loved Southern home cooking.
Graceland's kitchen was the heart of the house and there was always food on the counter to snack on from fried okra to M&Ms.
Angie said: "Elvis grew up on good ol' Southern food. He loved meatloaf, mashed potato, fried chicken…mac & cheese. Anything that he grew up on were some of his favourites.
However, The King couldn't stand fish and had it banned from Graceland where he lived with his extended family.
The Elvis expert said: "Anything but fish. He didn't like the smell of fish being cooked in the house. There was never any fish in the house."
READ MORE: Elvis Presley death: King's cousin on last chat upstairs at Graceland
Angie also said how Elvis' ex-wife Priscilla Presley has shared that The King enjoyed meatloaf and mashed potatoes so much that he ate it every day for dinner for six months.
The Graceland archivist said: "He definitely was a creature of habit, so if it was made in the South…he liked it."
The King really would obsessively eat one kind of food over and over until he became bored of it.
His favourite snack was, of course, the famous peanut butter and banana sandwich with bacon.
Angie said on the virtual live tour: "Lisa does still own the house and grounds, it belongs to her and her family.
"So she owns the original 14 acres of land, as well as the mansion and all of the artefacts you see inside the house.
"This is still her property. Her and her family do come back here quite often and spend time here at the mansion, which makes it a lot of fun and still makes it feel like a home."
In fact, Lisa Marie and her family occasionally have Thanksgiving dinner in the mansion.
Lisa Marie told USA Today in 2013: "It's a very special place…it shuts down quite nice at night.
"I have family that I love very much who live there in Memphis. When I go… I visit [Graceland]. We have dinner there.
"My family still goes there, and we still have a life there. Mom wasn't there then, but we're going to be there in a couple of weeks, together."
She also admitted she has stayed overnight at Graceland in the past but not recently, often sleeping off-site when in Memphis according to Angie.