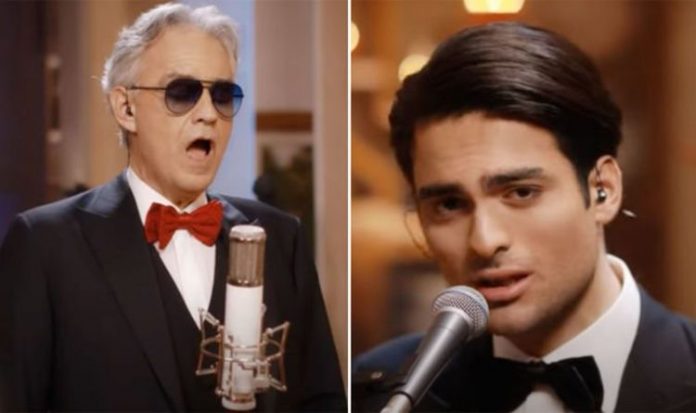 Andrea Bocelli and his son Matteo Bocelli have spent much of the pandemic together at home in Tuscany, Italy. There, they've sung together not just for fun but also for specially recorded performances. The latest of these was for Chinese New Year, in which the father and son dressed up in black tie.
The new video begins with Andrea playing a grand piano while singing his heart out for an extract of O Sole Mio.
After this incredible performance, the 62-year-old tenor was joined by his son Matteo.
The 23-year-old greeted the Chinese audience by saying Ni hao, which translates as Hello in their native tongue.
Surrounded by beautiful Chinese New Year decorations, Matteo took over the piano playing from his father.
READ MORE: Andrea Bocelli son Matteo Bocelli teases his upcoming new solo music
And now Matteo is preparing to release his first solo album, following his father's latest, Believe, last year.
Matteo wrote on Instagram earlier this month: "It's been two years since my debut at the most important music festival in Italy.
"I'll never forget the incredible feeling of walking on to the stage for the first time.
"That moment marked the beginning of an intense creative journey – I can't wait to share my music with you soon."
In a YouTube Q&A last year, Matteo teased: "We're composing a lot of songs that we hope to share with you very soon. I'm writing a lot of new music."
The 23-year-old also shared how much he loves performing duets with Andrea.
He said: "It's been a beautiful experience because, of course, since I was a little kid he would travel a lot. And, of course, I was doing school, I didn't have the chance to spend a lot of time with him.
"With Fall On Me, I had the chance to spent a lot of time with him travelling and being on many stages so it's been fantastic."
Asked about growing up with Andrea Bocelli as his father, he highlighted their close relationship.
The singer said: "Of course, it's not been so easy because you'd really have loved to have had your parents always with you.
"But I have to say. he's been a very close father, a close dad and as soon as he could come back home to his sons he was coming back. Even if it was, many times, far from home, he was very close to us."
Speaking with Express.co.uk last year, Andrea was asked if a family album including Virginia Bocelli was in works, to which the tenor replied: "It's not a consideration at the moment. But… never say never."