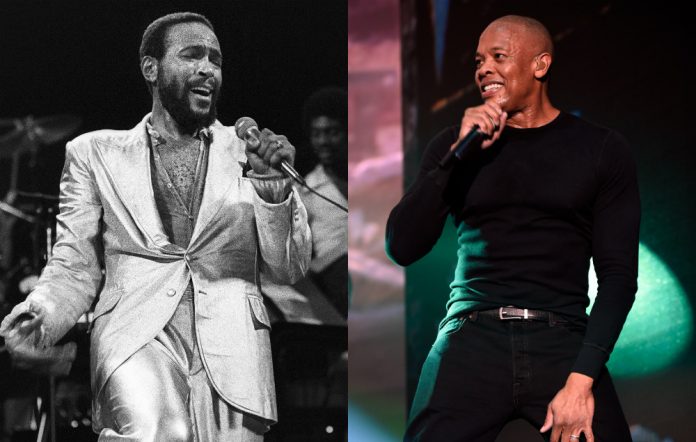 [ad_1]

He's secured rights to the late singer's music.
It's been announced that Dr Dre is making a movie about Marvin Gaye.
Variety reports that the biopic has been given go ahead and is 'in the early stages of getting the project off the ground', with Dre securing rights to the late singer's musical back catalogue.
The rapper's previous movie credits include 'Straight Outta Compton', the 2015 NWA biopic about the birth of West Coast gangsta rap.
Marvin Gaye died in 1984 after being shot by his own father following an argument, at the age of 44.
Back in 2016, Gaye's estate gave their blessing for a limited series about the singer's life, starring Jamie Foxx – however, there's been no news on the project since.
Similarly, documentary 'What's Going On' was due for release last year – and was the first film to be approved by Gaye's family – but has also been delayed.
It was reported that Gaye's children, Frankie, Nona and Marvin III, along with his former wife Janis Gaye, have all supported and contributed to 'What's Going On'.
Director Cameron Crowe, producer Scott Rudin, and actor James Gandolfini have all previously tried to get projects about the singer off the ground, but were denied by the Gaye family.
Meanwhile, Dr Dre recently lost a trademark infringement battle against a gynaecologist who wanted to trademark his working name as Dr Drai.
Pennsylvania-based Dr Draion M Burch tried to claim the name back in 2015, when Dre's team stepped in, claiming that the similarities would result in confusion, and people would end up buying Drai's products, instead of his own.
Back in 2015, judges ruled that  Robin Thicke's 'Blurred Lines' sounded too much like Marvin Gaye's 1977 single 'Got To Give It Up', and ruled that ruled that Thicke and Pharrell Williams – who helped write the track – had to give Gaye's family $7.3m (£4.8m).
However,  not everyone agreed – Chic musician Nile Rodgers stated that the two tracks "didn't really sound alike".
[ad_2]