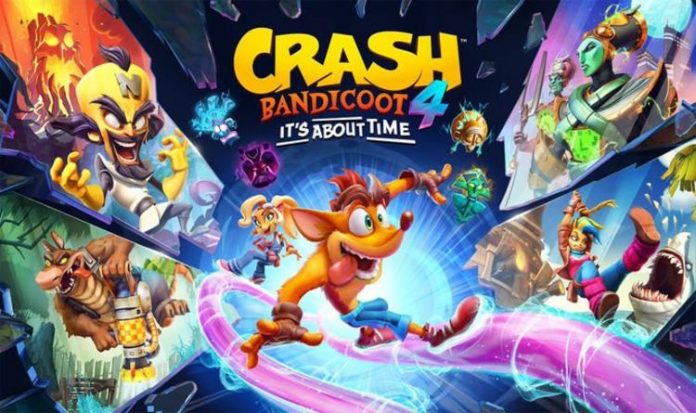 Activision has today confirmed that Crash Bandicoot 4: It's About Time, will be available to play on Nintendo Switch on March 12, 2021.
The news was shared the same day it was confirmed that Crash 4 would be getting its PS5 and Xbox Series X upgrade.
This will all be happening on the same day, and players who purchase or already have Crash Bandicoot 4: It's About Time on PlayStation 4, and Xbox One will be able to receive an upgrade to PS5 at no cost on March 12.
It's all great news for Nintendo Switch gamers, who will not have to wait longer than their PS5 and Xbox Series X counterparts.
Crash 4 on Switch has already lagged behind the PS4 and Xbox One versions, so fans will be relieved to hear that they won't have to wait longer.
The downside is that Activision has confirmed that Crash 4 will not be coming to Steam on PC.
Instead, the next Crash Bandicoot game will be available to buy and play on Battle.Net, the same place as COD Warzone and World of Warcraft.
A message from Activision adds: "Players who purchase, or already have, Crash Bandicoot 4: It's About Time ($59.99 SRP) on PlayStation 4 or Xbox One will be entitled to receive next-gen upgrades at no cost (except in Japan) within the same console family on March 12.
"Pre-orders for Nintendo Switch ($39.99 SRP) are available in select territories starting today, via the Nintendo e-shop or at select retailers.
"The game will also be coming to PC via Battle.net, with pre-orders available in select territories starting today ($39.99 SRP).
"Anyone who purchases the game digitally will receive the Totally Tubular Skins (available upon completion of the second level), which put Crash and Coco into some digs that show off their radical '90s roots."
There is no news on when Crash 4 will be playable on PC but it looks fans can rule out a Steam release for now.
It's About Time is expected to launch on Battle.Net later in 2021, and is expected to include all of the new next-gen upgrades, with Activision adding:
"For those playing on next-gen platforms, Crash Bandicoot 4: It's About Time will have enhanced 4K resolution*, faster loading times, and more!
"And you can play the way you want to. Choose Modern mode or Retro for that classic gaming experience — where if you lose all your lives, you restart the level.
"Bend reality with four powerful Quantum Masks — the guardians of space and time — like Lani-Loli, who phase-shifts obstacles in and out of existence, or Ika Ika, whose power inverts gravity, giving Crash and Coco the ability to platform upside down!
"Experience the story in new ways with alternate timeline paths, revisiting previous levels using different characters — like nefarious villain Neo Cortex and the reformed Dingodile — and more difficult platforming challenges.
"And test your skills in the new N. Verted mode, a wild take on mirror mode that flips levels and delivers new filters and effects across dimensions."