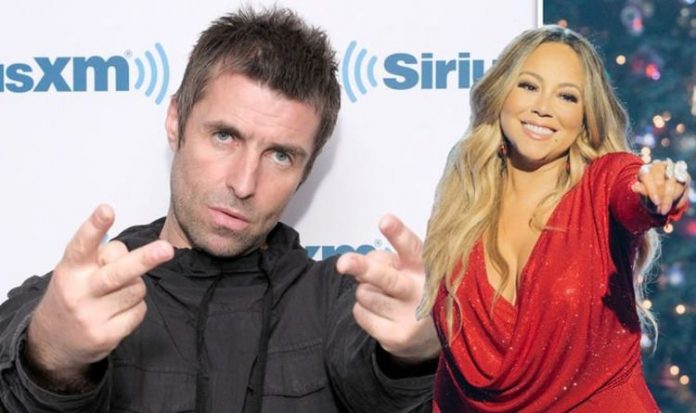 Christmas Number One has been won multiple times by none other than LadBaby. His singles We Built This City and I Love Sausage Rolls won the honour in 2018 and 2019. Many may expect him to take the crown once again in 2020 – but who else is in the running for Christmas Number One?
Who will win Christmas Number One 2020?
At the moment, it is LadBaby once again who is looking like a potential victor, if the odds prove to be correct.
Ladbrokes odds reveal LadBaby to be at 2/1 to take his third Christmas Number One, which would be for an upcoming single which is yet to be announced.
This is incredible, given he has not even announced his intended single, to be so high in the odds, however, it is unclear if he will even release a single.
READ MORE:  Ozzy Osbourne members: How many people have been in Black Sabbath?
However, he has performed a song with a small choir for a Walkers ad, given he has launched sausage roll flavoured crisps in partnership with the brand and in aid of The Trussell Trust.
It may be this is turned into a full-length song and serves as his entry, or he may do a version similar to his sausage roll song about his love of crisps.
However, he may not even enter a single, meaning there will be others vying for the top spot.
Ladbrokes named Liam Gallagher as one of these people, whose album Down by the River Thames is out on December 5.
His single from the album is yet to be determined, though he released a demo which reached Number 80 in the charts.
He is at 5/1 odds according to Ladbrokes, while Jess Glynne and Mariah Carey are in the running with 8/1 odds.
Mariah Carey's song, All I Want For Christmas Is You, has been a chart stalwart since its release in 1994.
All I Want For Christmas Is You has never reached Number One in the UK, however, and many hoped 2019 would be its year given it was the 25th anniversary of the song's release.
DON'T MISS
It was not to be as LadBaby took the title, though this year Mariah is trying again to get her song near the top.
Mariah has released a musical special called Mariah Carey's Magical Christmas Special on Apple+ TV, which could show a hope her song will trickle back into the charts after new listeners are exposed to it.
Other than her, other Christmas standards are in the running, with Wham at 10/1 odds and The Pogues at 18/1 odds with their songs Last Christmas and Fairytale of New York respectively.
Robbie Williams is also in the running, with odds at 12/1 for his single Can't Stop Christmas.
Can't Stop Christmas has come from his 2019 Christmas album The Christmas Present, which became his 13th UK Number One album, tying him with Elvis Presley for the most UK Number One albums by an artist.
Alex Apati of Ladbrokes said of the odds: "A Rock N' Roll star and a sausage roll star look set to go toe-to-toe in a battle for this year's Christmas number one spot, and as things stand it's Liam who seems likely to lose out to LadBaby."
Until we know if LadBaby is releasing a single, we will have to wait on who it could be who could take the crown.
On OddsChecker, which shows an aggregate of various odds, Mariah is just behind LadBaby in the running, so if he chooses not to release a single, this could be her year.
*Odds correct as of December 3