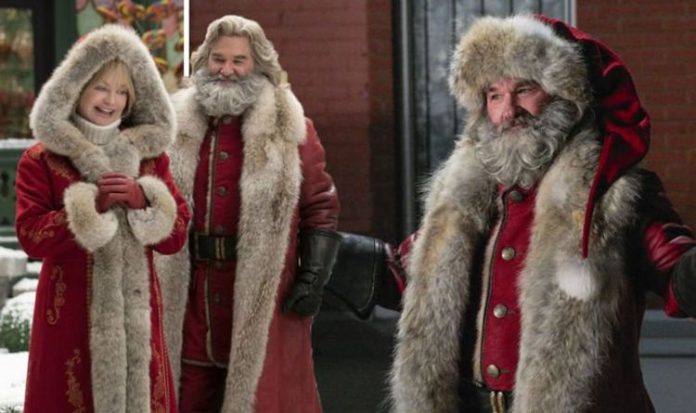 Christmas Chronicles 2 stars Goldie Hawn and Kurt Russell as the Clauses, who are trying to save Christmas. The first film saw Kurt as Father Christmas, trying to save the festive season with the help of two children. In the second film, however, the kids are back, this time with their mother and Bob – but who plays Bob?
Who plays Bob in Christmas Chronicles 2?
Bob Booker, a new character in the second Christmas Chronicles movie, is played by Tyrese Gibson.
The character is the new boyfriend of Claire Pierce, Kate and Teddy's mother.
Kate and Teddy are the main focus of the first two films, along with Father Christmas, as they try to help Santa save the festive season for everyone.
READ MORE:  Michael Jackson Thriller behind the lyrics: How was Thriller written?
In the first film, Claire (played by Kimberly Williams-Paisley) is trying to cope with the death of her husband, Doug (played by Kurt Russell's stepson Oliver Hudson.)
This is also the case for Kate and Teddy (Darby Camp and Judah Lewis) who have been struggling to hold onto the Christmas spirit, especially Teddy.
However, after meeting Santa and helping him to make sure presents get to all the children, they leave him behind.
In the next film, Kate is a little more cynical than the previous movie, as two years have passed and she is turning into a teenager.
This time, rather than staying at home and trying to deal with the death of her dad, she is going to Mexico with her brother, mother, and Claire's new boyfriend Bob, as well as his son, Jack (Jahzir Bruno.)
She wants to be at home, where it snows at Christmas and feels closer to the season, but soon she and Jack are transported to the North Pole.
After their adventures, Kate becomes more accepting of Bob, which is also aided by her getting to know Jack better.
As a result, while Bob is not a major character in the film, he is central to Kate's journey throughout her time with Santa Claus.
DON'T MISS
What else has Tyrese Gibson been in?
Tyrese Gibson's first movie was a TV film called Love Song, released in the USA in 2000.
His first major film to appear in was 2 Fast 2 Furious, after which he appeared in Fast Five, Fast and Furious 6, Furious 7 and The Fate of the Furious.
His character's name is Roman Pearce, who was a close friend of Paul Walker's character, Brian, who has done time in and out of prison with Brian, while also helping Vin Diesel's character Dominic.
He is expected to appear in F9, the upcoming Fast and Furious movie.
Another franchise Tyrese is part of is the Transformers franchise, in which he plays Robert Epps and has appeared in all of the Transformers movies.
Most of Tyrese's films fall in the action genre, however, he is also expected to appear in Morbius, the upcoming superhero movie from Sony.
Morbius stars Jared Leto as the title character and will allude to the MCU in a number of ways, mainly to Spider-Man, which is also a Sony-owned character.
The Christmas Chronicles and The Christmas Chronicles 2 is available to watch on Netflix now