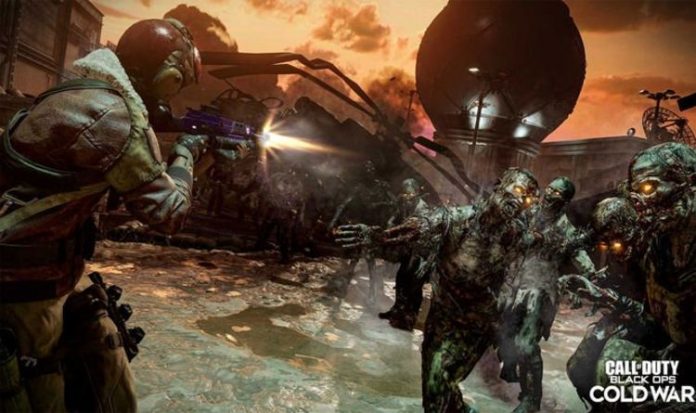 Gamers won't have to wait long before the launch of Call of Duty Black Ops: Cold War's next update.
There's been plenty of new weapons to check out in Warzone, while multiplayer fans have had the choice of new modes and maps.
So with the ending of Season One coming soon, Activision and developers Treyarch have put together a big Cold War Zombies patch.
The Firebase Z map has a release date set for Thursday, February 4, the same day as the new Call of Duty Warzone playlist patch goes live.
Firebase Z will come with a brand new weapon called the R.A.I. K-84, and it will also boast its own Easter eggs.
These won't be available to find on launch day, but gamers won't be waiting long before they can start finding them.
A message from Activision confirms: "he next chapter in the Black Ops Cold War Zombies saga begins on February 4 in "Firebase Z," Treyarch's latest map in the new Dark Aether story.
"Following the events of "Die Maschine," Grigori Weaver and the agents of Requiem will storm the jungles of Vietnam to rendezvous with an Omega Group informant and attempt to save Samantha Maxis from Outpost 25.
"This entirely new Zombies location is packed with new enemies, game features, hidden secrets, and a powerful new Wonder Weapon to wield against the undead. Watch the trailer if you haven't already, and get ready to grab your squad and jump in:
"Also on February 4, the Tombstone Soda Perk is back, and will be available in "Firebase Z" and the Der Wunderfizz machine in "Die Maschine."
"This time, the Tombstone Soda Perk will be a bit different. Players will be turned into shadows after they're downed, which will allow them to explore the Dark Aether while trying to revive themselves.
"But if you die in while in shadow form, you're dead for good. Better make your time in the shadows count."
And the good news is that we know when things will be kicking off with Call of Duty's next big content update.
BLACK OPS COLD WAR FIREBASE Z MAP RELEASE TIME
A message from developers Treyarch has confirmed that the Call of Duty Black Ops: Cold War update time has been set for 7am GMT on Thursday, February 4.
Due to the time difference, the Firebase Z release time in the United States has been set for 11am PDT, on Wednesday, February 3.
A message confirming the Firebase Z launch schedule adds: "Our new #BlackOpsColdWar content update will go live at 11PM PT Feb. 3 / 2AM ET Feb. 4 / 7AM GMT Feb. 4.
"This will include the immediate launch of #FirebaseZ, Express, new modes and playlists, four additional Prop Hunt maps, and much more!
"The main Easter Egg quest in #FirebaseZ will be disabled at launch until 9AM PT / 12PM ET / 5PM GMT Friday, Feb. 5 to make sure everyone can start the hunt on equal footing."
A message from Activision has not shared what is being planned for Call of Duty Warzone but they have revealed that the next Double XP event is coming soon to Battle Royale.
To celebrate the continuation of Season One: Reloaded, Double XP will be live in Black Ops Cold War and Warzone on all platforms starting at 10AM on February 5 through February 8, with PlayStation Operators receiving another full day of Double XP on February 4.