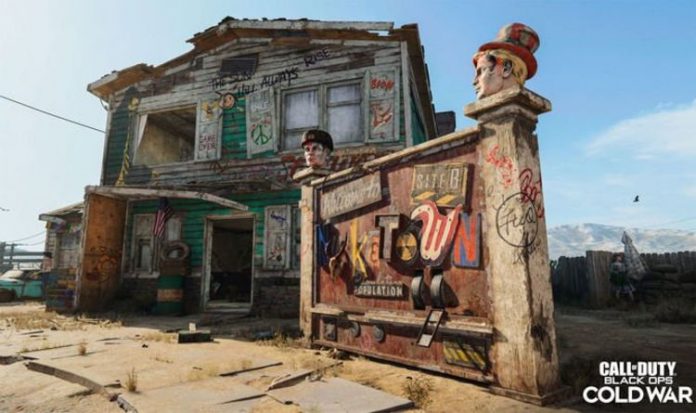 Gamers can now find the latest update waiting for them when they launch Call of Duty Black Ops: Cold War today.
Weighing in at different download size depending on which platform you're playing on, this latest COD patch brings a number of changes to the game.
The biggest is the addition of Nuketown 84, a new map which comes as part of a 24/7 playlist available in-game.
This latest iteration of the popular Nuketown map comes with some notable differences, including a new location.
A message from Treyarch explains: "Although the layout may look familiar to fans of the original Black Ops iteration of Nuketown, this particular location in the Nevada desert has been designated "Site B." In 1954, Site B was primed for "the big test," but a last-minute government budget decision decommissioned the site. For 30 years, this Nuketown remained dormant… until in 1984, a group of social misfits travelling through no man's land discovered the site and made it their home. Decorating the site with graffiti and various junk collected in their travels, they turned this quaint cul-de-sac into a personal desert refuge from a world filled with wars, anxiety, and "The Man."
Other highlights from today's patch notes include a new Double XP event, available in both Multiplayer and Zombies, as well as the following:
Nuketown '84
2XP + 2WXP
Nuketown 24/7 playlist
Weapon camo fixes
Zombies bug fixes + Onslaught updates
Stability improvements
However, for those who want to know everything about today's Nuketown update, you can find the full Black Ops Cold War patch notes for November 24 listed below:
PATCH NOTES
ump into the Nuketown 24/7 featured playlist, and level up to your heart's content with Double XP and Double Weapon XP all week long until 10AM PT Monday! Here's what's new since our last update:
GLOBAL
2XP + 2WXP
MULTIPLAYER
Maps
Nuketown '84

Added Nuketown '84 to 6v6 map rotation in Quick Play Core and Hardcore playlists.

Added Nuketown 24/7 featured playlist.

Added Nuketown '84 to Custom Games map list.

Crossroads Strike