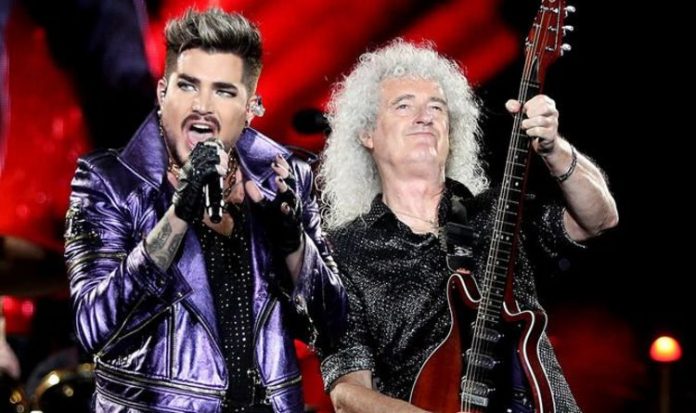 Brian has always been extremely open and enthusiastic with his feelings about Adam. The guitarist has confessed he knew there was something special about the then American Idol hopeful when they first met on the show back in 2009. Since then, Adam has become an integral part of the rebirth of Queen. While the band members are currently waiting to complete the final European leg of their world tour, Brian recorded a special message for his friend from his Surrey home.
The rock legend is wearinga. T-shirt with his name emblazoned across it and playfully gives his bandmate a number of shout-outs as he starts recording.
In the video, Brian says: "Hey! Hey Adam! Adam Lambert. I hope you're listening because this is a big, big fat happy birthday from your pal Brian."
Adam is celebrating his 39th birthday today at home in Los Angeles. Although the rock star is not taking it easy – he will give two live concerts throughout the day.
Brian also had some birthday wishes about the Queen tour.
READ MORE: Freddie Mercury's beautiful last photos at home contain two hidden messages
Of course, Brian can only be referring to one thing when he says: "I hope soon we will be able to get back out there and do that thing which we need to do."
The Queen + Adam Lambert Rhapsody tour completed its North American, Australian and Pan-Asian legs throughout 2019 and the start of 2020 before the coronavirus halted all live performances.
The final European shows have been rescheduled for this summer but all eyes are on the ongoing global situation to see whether they can go ahead.
In the meantime, fans can enjoy the two live shows today from Adam.
The star told fans: "I'm so excited to be putting on a show for my fans worldwide.
"Live performance has always and will always be at the heart of what I do, so I'm so happy we've found a way for it to persist safely in place of my cancelled Las Vegas residency and European tour.
"The show will be a real celebration, with new songs from Velvet plus plenty of our older favourites, and some brand-new surprises.
"I look forward to the party we all deserve from wherever in the world you may be!"