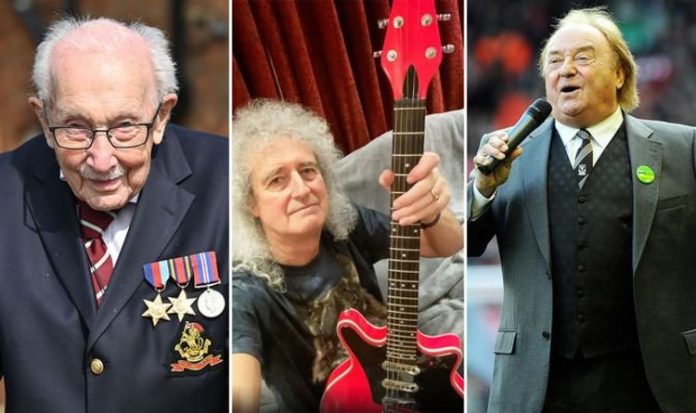 Yesterday NHS and war hero Captain Sir Tom Moore died at 100-years-old. And now Queen guitarist Brian May has paid tribute to the £33 million charity fundraiser and Gerry Marsden, who died on January 3, by playing the latter's You'll Never Walk Along hit on the electric guitar. Of course, Captain Tom also sang a charity cover of the track that hit UK No 1 last year.
May posted his performance on Instagram, played on his Pinkest of all Pinks BMG Special guitar, which is being auctioned for charity soon.
Accompanying the post, May wrote: "You'll Never Walk Alone. Well, this is just a low-tech spontaneous mark of respect.
"For Captain Sir Tom Moore, who, by walking, inspired us all to stand up and fight – God speed on your next journey, Sir.
"And for Gerry Marsden, who made this an axis for pride in his home town of Liverpool, and in achievement of excellence everywhere. And for the composers of this wonderful song, Richard Rodgers and Oscar Hammerstein. What an anthem !!!"
READ MORE: Elvis: Lisa Marie remembers growing up at Graceland 'No bad memories'
May added: "And for all our dear ones, sadly missed, because they have gone on, to that place where we are all headed in the end. With all respects … you'll never walk … alone. Bri."
The Prime Minister Boris Johnson has announced that at 6pm tonight there will be a nationwide clap for Captain Sir Tom Moore alongside key health workers for whom he raised £33 million.
Meanwhile, The Beatles legends Sir Paul McCartney and Sir Ringo Starr paid tribute to the late Gerry Marsden at the start of January when he died.
Sir Paul posted a picture from 1963's Roy Orbison/Beatles UK tour, which also included Gerry and the Pacemakers.
Sir Ringo also posted a snap of the bands jumping off a wall together.
The 80-year-old drummer wrote: "God bless Gerry Marsden peace and love to all his family."
Gerry and the Pacemakers were the first act to reach No 1 in the UK Singles Chart with their first three single releases.
These were How Do You Do It?, I Like It and You'll Never Walk Alone; a record that was not matched for 20 years.
As mentioned, 57 years after You'll Never Walk Along was released, Captain Sir Tom Moore recorded a charity cover version with Michael Ball and the NHS Voices of Care Choir
As a result, the 100-year-old veteran became the oldest person to score a UK No 1 in history.
The track sold almost 36,000 copies in its first 48 hours alone and hit the top spot in time for his 100th birthday on April 30.
A biopic movie of Captain Tom's life is in the works and when announced last year he suggested that Michael Caine or Anthony Hopkins could be aged up to play him.