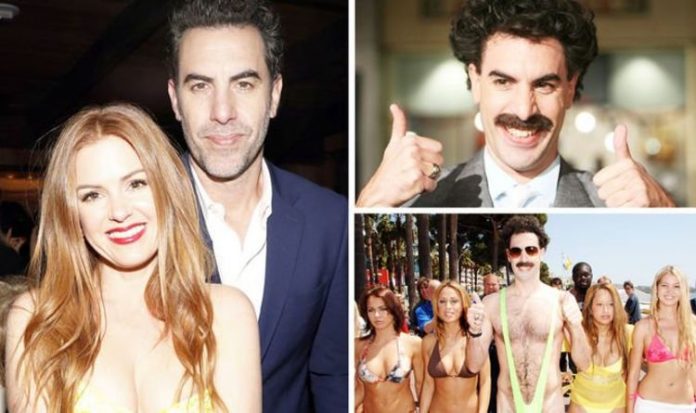 The British actor's sequel to his controversial 2006 mockumentary Borat will be released tomorrow. The comedy is already becoming one of the year's most-talked about films and has hit the headlines a number of times. One scene that went viral saw Baron Cohen dressed as US President Donald Trump as he carried a woman over his shoulder at a political conference. The 49-year-old actor claimed he wanted to release Borat 2 before the 2020 US election in a bid to make voters aware of the impact of their decision. 
Baron Cohen has found himself in a number of difficult and potentially dangerous situations during his portrayals of Borat Sagdiyev, Ali G and others.
While the star seems unfazed by the risk, he revealed that his wife of 10 years Isla Fisher often worried and warned him against some of his stunts. 
Despite her fears, he told the New York Times this month: "If there's anything dangerous that I'm going to do, I just don't tell her until it's over."
Baron Cohen admitted that he made "a mistake" in allowing her to join him while he filmed for his 2009 film Brüno.
The flick centres around a gay Austrian fashion guru who moves to the US after he embarassed himself in front of fans.
A tricky situation from that film led her to vow to never join him during his crazy antics again. 
Baron Cohen recalled: "She once came on set just for fun. On set means coming to the minivan, which carried me around when we were shooting Brüno. 
"And there ended up being a police chase. I was in a separate car and the police were trying to find me."
While the worrying scenes didn't prevent the star putting himself in similar risky situations in Borat 2, Fisher was adamant about her verdict. 
He said: "She found the whole thing so upsetting, and she never came back on set again."
One scene from his new film led Baron Cohen to sneak into a Conservative Political Action Conference this year.
He was dressed as President Trump, in preparation for a stunt during the event – where Vice President Mike Pence was due to speak.
Baron Cohen recalled: "Obviously, I'm wearing a fat suit, how do I get in and how do I get out?"
He explained that security was there to "check everyone's bodies going through" and as he approached, a problem occurred.
Baron Cohen said: "Bear in mind, I spent five hours in makeup that morning with the prosthetic team changing my face into Trump's face. 
DON'T MISS
Kim Kardashian's 'influence over White House' exposed [ANALYSIS]
Danny Boyle's crippling Brexit fear about film release unveiled [INSIGHT]
North Korea's dilemma over Donald Trump exposed [INTERVIEW]
"This fat suit is huge. It's a 56-inch fat suit to turn my waist into Trump's because we had estimated that was the most realistic."
When the security guards wand started to beep, he claimed it was a defibrillator and managed to get through. 
Baron Cohen said: "Then I ended up hiding in the bathroom, listening to conservative men go to the toilet for five hours until I broke into the room. 
"We were surrounded by Secret Service and police and internal security."
He also lived with conspiracy theorists for several days, which required him to remain in character throughout his stay. 
Baron Cohen explained: "I was waking up, having breakfast, lunch, dinner, going to sleep as Borat… You can't have a moment out of character."
He decided to feature them in the film to show that conspiracy theorists "are ordinary folks who are good people, who have just been fed this diet of lies".
He continued: "They're completely different to the politicians who are motivated by their own power, who realised that they can create fear by spreading these lies through the most effective propaganda machine in history."
Sacha Baron Cohen's film Borat Subsequent Moviefilm: Delivery of Prodigious Bribe To American Regime For Make Benefit Once Glorious Nation Of Kazakhstan is available to stream on Amazon Prime from October 23.