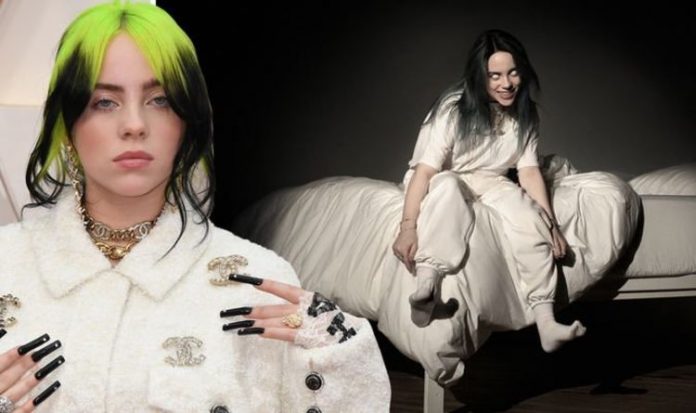 Billie Eilish has been releasing music non-stop throughout the pandemic. Last year saw the release of her James Bond tie-in track No Time To Die, before being nominated for a Grammy Award for it. Her fanbase have been looking forward to the next album from the 19-year-old star, and she has now spoken up for the first time on what it sounds like. The singer explained in a recent interview that the new record feels "exactly" how she wants.
Eilish revealed: "[It] feels exactly how I want it to. There isn't one song, or one part of one song, that I wish was this or that I wish it was that."
At the time of writing, Eilish has not announced a title for the album, nor when it will be released.
Her brother and co-artist Finneas also spoke up about the record, calling it a "continuation of Billie's life story".
He added: "Even just little moments of variety, like on No Time to Die, she has a big belt moment that a couple of years younger Billie might not have had the training or the stamina to do."
READ MORE: James Bond: No Time To Die could win an award BEFORE it is released
Later this year fans will see Eilish in a more open and vulnerable state than ever before, as her documentary is due to be released on Apple TV Plus.
The documentary, titled The World's a Little Blurry, follows Eilish over the past few years, showcasing her journey into superstardom
This documentary includes the release and incredible reception to her first album, When We All Fall Asleep, Where Do We Go?
Speaking in the same interview with Vanity Fair, Eilish explained that the documentary will also delve into some parts of her life that she didn't originally intend to share with the public.
Eilish continued: "I was going through hell in certain parts of my life, and I had no idea anyone was seeing it."
The documentary also has some lighter moments, however, as she explained how she never realised how much "anything cost" while discovering the "joys of online shopping".
She revealed: "I don't know what things cost because I've never been an adult before. And, you know, I grew up with no money.
"It's a really weird position I'm in. I feel kind of stupid because I'm like, I don't know how much Froot Loops are. I tried to order one box of Froot Loops and I was like, Oh yeah, sure. It's $35. I didn't know that that's expensive…I ordered 70 [little] boxes."
Eilish's highly-anticipated sophomore album is expected to be released at some point this year – and it has enormous boots to fill.
Her aforementioned previous album sold more than 1.3 million copies in the USA, and became the best-selling album in Canada in 2019.
The album also won the 2020 Grammy Awards' Album of the Year, Best Pop Vocal Album, and Best Engineered Album.
Her hit song from the record, Bad Guy, won Song of the Year.
The March issue of Vanity Fair is available via digital download and on newsstands Friday 29th January