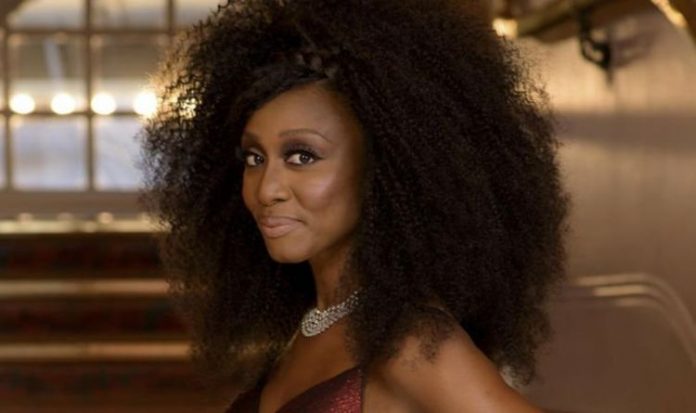 This year we need Christmas spirit and sparkle more than ever and Beverley always delivers, whatever the season. Her new song is bursting with sleigh bells and those trademark vocals which truly, well, slay. But even this fabulous lady admits this year had been unbelievably tough.  Beverley tells us about Christmases past and future and why this country will fight back. SCROLL DOWN TO WATCH BEVERLEY KNIGHT'S BRILLIANT NEW XMAS VIDEO
Hi Beverley, what's your, ahem, Christmas Wish?
To be back on stage with the audience in front of me, my band and crew behind me, doing what I do, and all of us loving our lives and creating memories.
I think of everybody – my own band, crew, wardrobe, wigs, the people who sell tickets, the transport industry who get us around and bring the audiences, the hospitality industry. Everybody. We exist in a delicate ecosystem and if one of us goes down, you better believe the rest of us will feel it too. But we are going to win this one.
Someone like me will always find a way through, which I have done and I'm very grateful and lucky because my name means people will ask me to do things that don't necessarily require me to stand on a stage, but this year has been weird and devastating and heartbreaking. 
MORE: Freddie Mercury's LAST Christmas – Watch his beautiful home video
What are you up to this Xmas? I'm in the show Pantoland with Julian Clary, Diversity and Elaine Paige at the London Palladium, which is so funny and so rude!
Which Christmas songs raise a tear and what are your guilty pleasures? Have Yourself A Merry Little Christmas and Silent Night both get me going… We do Silent Night at church and bring some gospel to it, change the time signature and modulate the keys…
Slade's Merry Xmas Everybody isn't even a guilty pleasue! There's Wolverhamptoners, my part of town. They're my boys. It was Number One the year I was born, 1973.
What Xmas gift did you always want and never get? I wanted a Soda Stream so badly. Never got one. My dad would go, 'I don't believe in them kind of artificial drinks, you're not having it!' I wanted to get busy with the fizzy but never had the chance. It wasn't fair.
What are the best and worst gifts you have received? Like everyone I have had nighties that were ten times too large from family members but my husband James always gets me beautiful jewellery and one year took me to Thailand. James is definitely winning!
What will Xmas mean to you this year? I will be very grateful I haven't had that thing yet and hope I don't get it. I'm grateful for what I have. I had to take stock. I have a wonderful family, my mum is still with us although my dad has passed. I have to look at that and be grateful to be healthy when we suddenly realised how vulnerable we are.
The Loss Adjuster is in cinemas and available on DVD/ digital now. Beverley Knight's "A Christmas Wish, Theme to The Loss Adjuster" is out now.