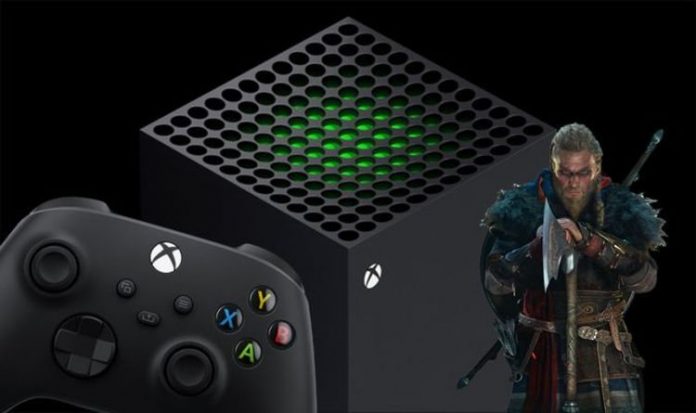 Best Xbox Series X and S games (Image: MICROSOFT)
If you were lucky enough to get an Xbox Series X or S for Christmas, then you're probably on the hunt for some quality next-gen games to go with it.
With extensive backwards compatibility support, Xbox Series X and S owners can play thousands of games on the new consoles.
And thanks to Microsoft's new Smart Delivery technology, Xbox game purchases are optimised for your console of choice.
You can start a game on Xbox One, only to play that same game with better visuals and improved performance on Xbox Series X.
For the sake of this list, I'll be talking exclusively about games that have been optimised for Xbox Series X and S, beginning with my favourite racing game of the year, Dirt 5.
Dirt 5…
With games like Forza Horizon and Forza Motorsport on the system, Xbox Series X and S owners are spoilt for choice when it comes to racing games. 
And while I love the latest entry in the Forza Horizon series, the visually spectacular Dirt 5 is the game I keep coming back to time and time again on Xbox Series X – I just love those weather effects.
It's not as deep as games like Forza Motorsport, Gran Turismo and Horizon, but if you're looking for fast-paced, pick up and play arcade thrills, then Dirt 5 definitely hits the mark. 
Dirt 5 on Xbox Series X (Image: CODEMASTERS)
Planet Coaster Console Edition on Xbox Series X (Image: FRONTIER)
Planet Coaster Console Edition…
If you're in need of cheering up after a dismal 2020, then Planet Coaster Console Edition is the game for you. Following in the footsteps of classics like Theme Park and Rollercoaster Tycoon, Planet Coaster gives players free rein to create the perfect amusement park and the most spectacular rides from scratch.
Despite starting life as a PC game, Planet Coaster Console Edition works surprisingly well on Xbox Series X and S, leveraging the power of the new hardware to offer improved visuals and faster loading times.
Best of all, you can share your creations with friends, or download hundreds of user creations from the Frontier Workshop.
Yakuza: Like a Dragon…
Yakuza Like a Dragon isn't necessarily the most impressive Xbox Series X/S game to look at, but it does have some pretty major advantages over the previous gen.
One thing that really stands out are the near instant loading times, which make a big difference in a cinematic game where you're constantly flitting between locations, story scenes and mini-games.
As for the game itself, Yakuza Like a Dragon does things a little differently, ditching the traditional combat system for turn-based battles inspired by the likes of Dragon Quest. 
Xbox reveal the upcoming Series X console
Assassin's Creed Valhalla…
There's something about Assassin's Creed Valhalla that appeals to me much more than Origins and Odyssey. Hopped up on TV shows like Vikings, the ability to fight and pillage as a Viking raider is just too much to resist.
It's a mightily impressive visual spectacle, taking place in a gorgeous open world that's as beautiful as it is gigantic. The English countryside, towns and fortresses are an absolute pleasure to explore, and even make the typical Ubisoft busywork that little bit more bearable.
The Xbox Series X version benefits from heavily reduced loading times, 4K visuals, and largely runs at 60 frames-per-second, despite one or two dips.
NBA 2K21…
NBA 2K21 is a pretty spectacular next-gen upgrade for the Xbox Series X and S, offering 4K resolution and 60 frames-per-second action, as well as a ton of gameplay tweaks and enhancements.
This includes improved crowds, more realistic animations, and even an open-world city to explore. Arguably the best looking game on the system, there are times when you'll struggle to tell the difference between gameplay and real-life basketball.
Assassin's Creed Valhalla on Xbox Series X (Image: UBISOFT)
Gears 5…
Gears 5 isn't a brand new game built exclusively for Xbox Series X, but it is one of the most impressive titles on the entire system, featuring stunning 4K visuals, not to mention heavily reduced loading times and a rock solid frame rate.
The action is so smooth and surroundings so sumptuous that it's almost distracting. I was downed by various monsters simply because I was too busy looking around and taking everything in, rather than concentrating on the task at hand.
Other than that, there's not really much else you can say about the Gears of War series at this point. It features all of the same cover-based gunplay and gory kills we've come to know and love from a series that's no stranger to showcasing console capabilities.
Game Pass Ultimate…
Not a game as such, but if you really want to get the most out of your Xbox Series X/S, then you simply must invest in Xbox Game Pass Ultimate.
Featuring literally hundreds of games from every generation of Xbox – including everything found in EA Access – Microsoft's gaming subscription service is incredible value for money, costing just £10.99 or £7.99 a month for unlimited access.