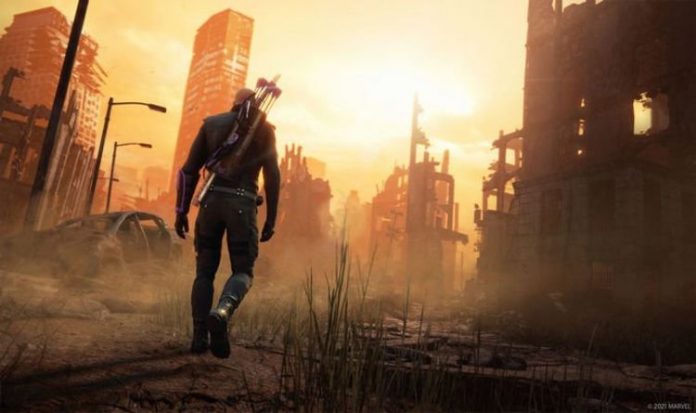 Marvel's Avengers might not have made as big a splash as expected in 2020, but there's still plenty to look forward to this year, including the new Hawkeye DLC.
And Crystal Dynamics is starting the year with a bang by hosting it's next War Table for the game this week.
The official Marvel Avengers Hawkeye DLC reveal is scheduled to begin on Tuesday, February 16, and is expected to include a lot of new details.
While we already know that Hawkeye is coming to the game as a playable character, there's plenty of other stuff being worked on.
This includes new post-apocalyptic location players will be able to explore, as well as the debut of Maestro.
The Wastelands have already been fleshed out a little by the development team, taking inspiration from the Old Man Hawkeye comics.
And here's a taster from the team on what it will be like to explore the Wastelands while playing Marvel's Avengers:
"In our timeline, the Kree, a hostile alien civilization attacks Earth for reasons unknown. A global battle ensues, causing irreparable destruction and killing most life on the planet. The Kree are deploying their giant Sentries, ravaging Earth's defenses. Humans managed to take down some of them and their metal carcasses are still littered across the deserted world.
"The devastation was so large that massive landmasses shifted, causing catastrophic damage to the world and destroying most of the infrastructure. The atmosphere has become so polluted that the sun is rarely visible, causing any kind of life to be suppressed. There is almost no vegetation, no animal life, and barely any humans left.
"When building the Wastelands, we had a few guiding principles. It should be disorienting since tectonic plates have moved around, new canyons have been created, nuclear bombs have gone off. That is why the Wastelands is its own region on the War Table – it is in an undefined place.
"There should be points of interest (POIs) every so often to allow players to view the world and immerse themselves in it.
"There are different types of POIs – some are remains of ordinary human life, like ruined buildings or a city block, while others are destroyed infrastructures, like a collapsed tunnel with a highway running through or a decimated bridge."
WHEN DOES THE MARVEL AVENGERS HAWKEYE REVEAL START?
According to Crystal Dynamics, the Marvel's Avengers Hawkeye War Table will begin at 6pm GMT, on Tuesday, February 16.
This event will include a lot of news concerning the new character and is likely to provide a firm release date for when we can expect all the new content to drop.
The Avengers development team has also promised to share more on the delayed Xbox Series X and PS5 versions of the game.
Details remain sparse on what this will include but gamers should at least get some kind of gameplay footage to highlight the improvements being planned.
A message from Crystal Dynamics adds: "Clint's story picks up after the conclusion of Kate's Operation, and brings us face to face with a distant future where all hope is lost.
"The Marvel's Avengers WAR TABLE Deep Dive – Hawkeye will be published tomorrow at 10AM PT!"