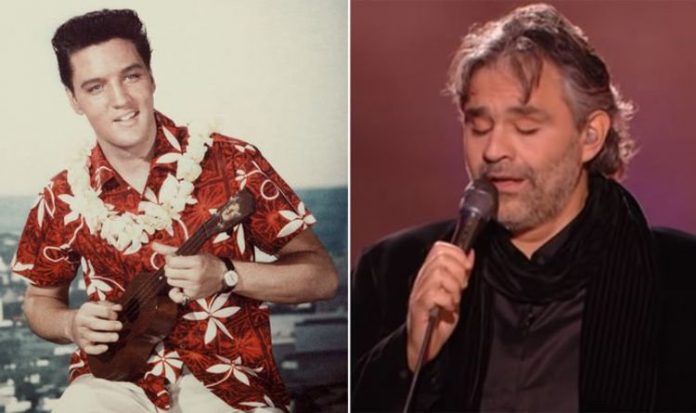 Andrea Bocelli has covered a number of hit songs over the years including some Elvis Presley hits. One of them was Can't Help Falling In Love, a track recorded by The King for his 1961 movie Blue Hawaii. The Italian tenor performed his rendition of the song over 15 years ago for Live at Lake Las Vegas Resort.
Considering Elvis' connection to the city of Las Vegas as a performer, it only seemed right that Bocelli gives The King a run for his money.
The live performance, which features on the tenor's 2006 album Amore, can be viewed below.
Bocelli was in his late 40s at the time and give a stunning rendition which was awarded a well-deserved standing ovation.
At the start of the video, pianist David Foster says: "We are in Las Vegas, the entertainment capital of the world."
READ MORE: Andrea Bocelli's son Matteo teases new album with 'Special surprise'
Foster added: "There's got to be a song that you could pull out of your hat that is very appropriate and right for this occasion being in Las Vegas, no?"
Bocelli then went over to the piano to show the pianist how to play Can't Help Falling In Love, before launching into the song himself.
It's hardly surprising the now 62-year-old chose to sing the Elvis song considering its romantic history.
The melody for Can't Help Falling In Love is based on Plaisir d'amour, a well known French love song composed in 1784 by Jean-Paul-Égide Martini.
Bocelli performed Hallelujah at his festive live-streamed concert Believe in Christmas last December.
Yet the Italian tenor didn't sing it solo, but as a duet with his daughter Virginia in her debut professional performance.
The eight-year-old joined her father on the stage of the Teatro Regio di Parma on December 12, 2020, before the two gave a goosebump-inducing rendition.
The tenor spoke with Express.co.uk last year, describing the feeling of singing such a beautiful track with his daughter.
Bocelli said: "It was a true Christmas present that Virginia gifted to me. It was very emotional but there was no apprehension: I focused on the beauty and intimacy and I tried to convey the serenity, encouragement and reassurance to Virginia.
"We sat on stage with only a guitar, the silence and her voice intertwining with mine. It was beautiful and simple.
"It was a very special moment, one to savour and remember always."
Andrea Bocelli's new album Believe is out now.