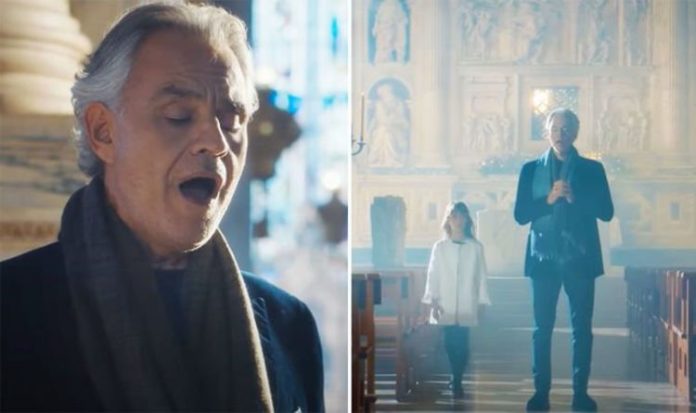 Andrea Bocelli has released the fifth single of his brand new album Believe in a rendition of Ave Maria. The classical anthem is translated from the Latin prayer Hail Mary. In his new music video, the Italian is seen visiting Loreto, Italy with his daughter Virginia.
As he sings Ave Maria, the father and daughter visit the Santuario della Santa Casa di Loreto.
Translated the Sanctuary of the Holy House of Loreto, the basilica enshrines the house which is believed by some Catholics to be where the Virgin Mary once lived.
A Catholic pilgrimage since at least the 14th century, Bocelli is filmed examining the marble screen around the Holy House.
Underneath the music video, the 62-year-old is quoted as saying: "I don't consider myself to be a composer, however, I am a musician, and sometimes melodies come to my mind, with essentially complete harmonies… Music that knocks on the door of my soul and which I gladly welcome and then set free by putting pen to paper".
READ MORE: Andrea Bocelli SMASHES another UK chart record with new album Believe
The accompanying caption read: "Thus, Andrea Bocelli has created this inspired arrangement for Ave Maria, which was composed in March 2020.
"The song clearly displays the Tuscan tenor's strong religious feeling, who draws strength not only from his spiritual journey and meditations on adulthood but also from his childhood memories:
"From the first time, he performed the sacred repertoire on the keys of an organ, the genuine devotion expressed by the community of churchgoers in the rural town where he grew up. "
Last weekend, Bocelli performed a live-streamed festive concert in Believe in Christmas with his daughter.
The goosebumps-inducing track also features on Bocelli's new album Believe, which was released last month.
The record features two new duets with Alison Krauss and Cecilia Bartoli, which were recorded remotely due to the pandemic.
Speaking with Express.co.uk a few weeks ago, Bocelli said: "Regarding the duets, it was a great joy to intertwine my voice with that of the great Cecilia Bartoli, the most important mezzo-soprano of our time with her own thriving career.
"It was a great joy to have the opportunity to duet with Alison Krauss, a multi-talented, exuberant artist, one of the true icons of American music."
While on his new album as a whole, Bocelli summed up: "This is an album I hold very dear to my heart."
"The fruit of a long internal journey even more so than an external, artistic one.
"It's a project with a purpose to put into words the musical dimension of spirituality by offering music that – at least for our intentions – can bring peace and harmony to those who listen to it."
Andrea Bocelli's new album Believe is out now.